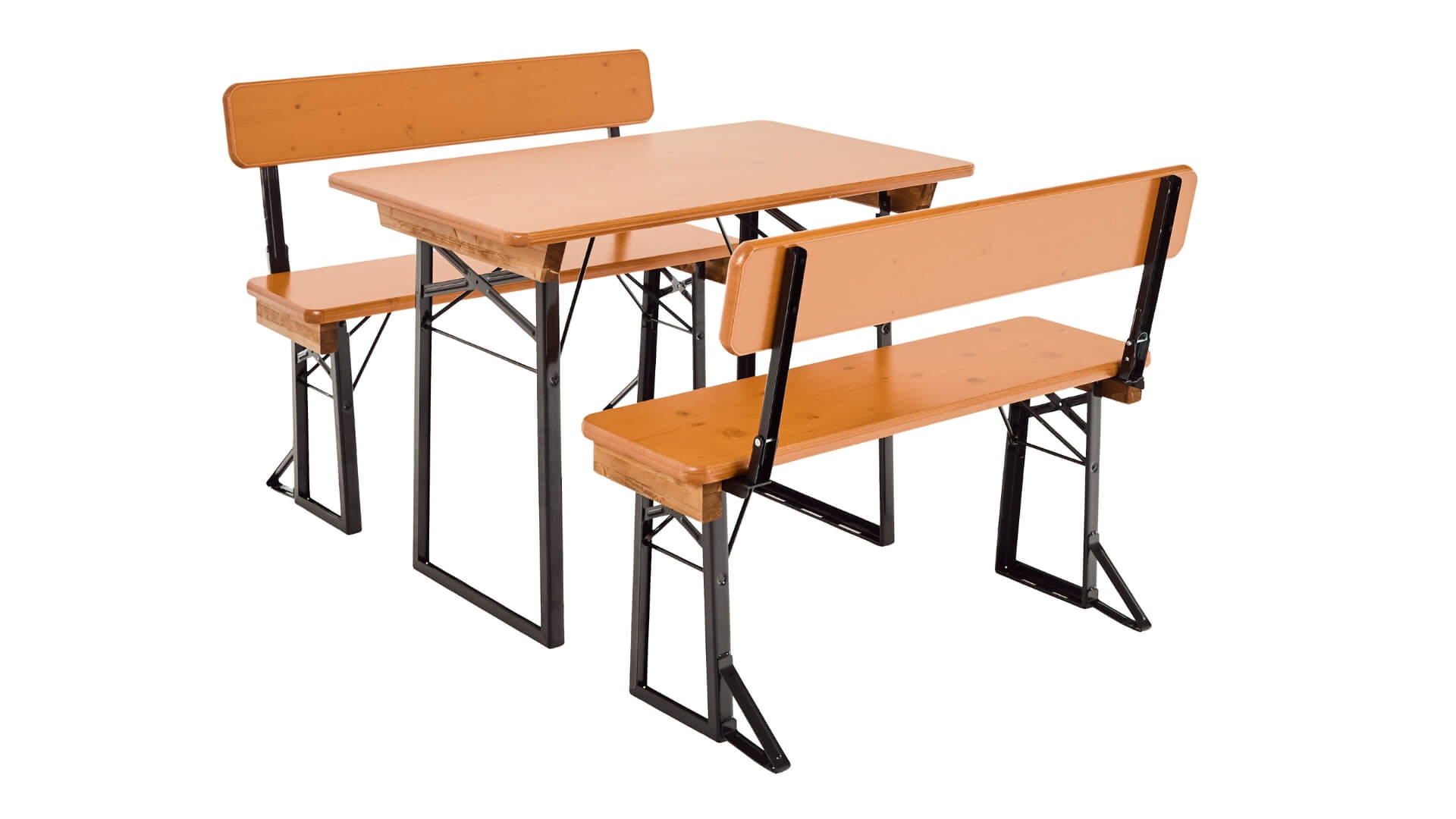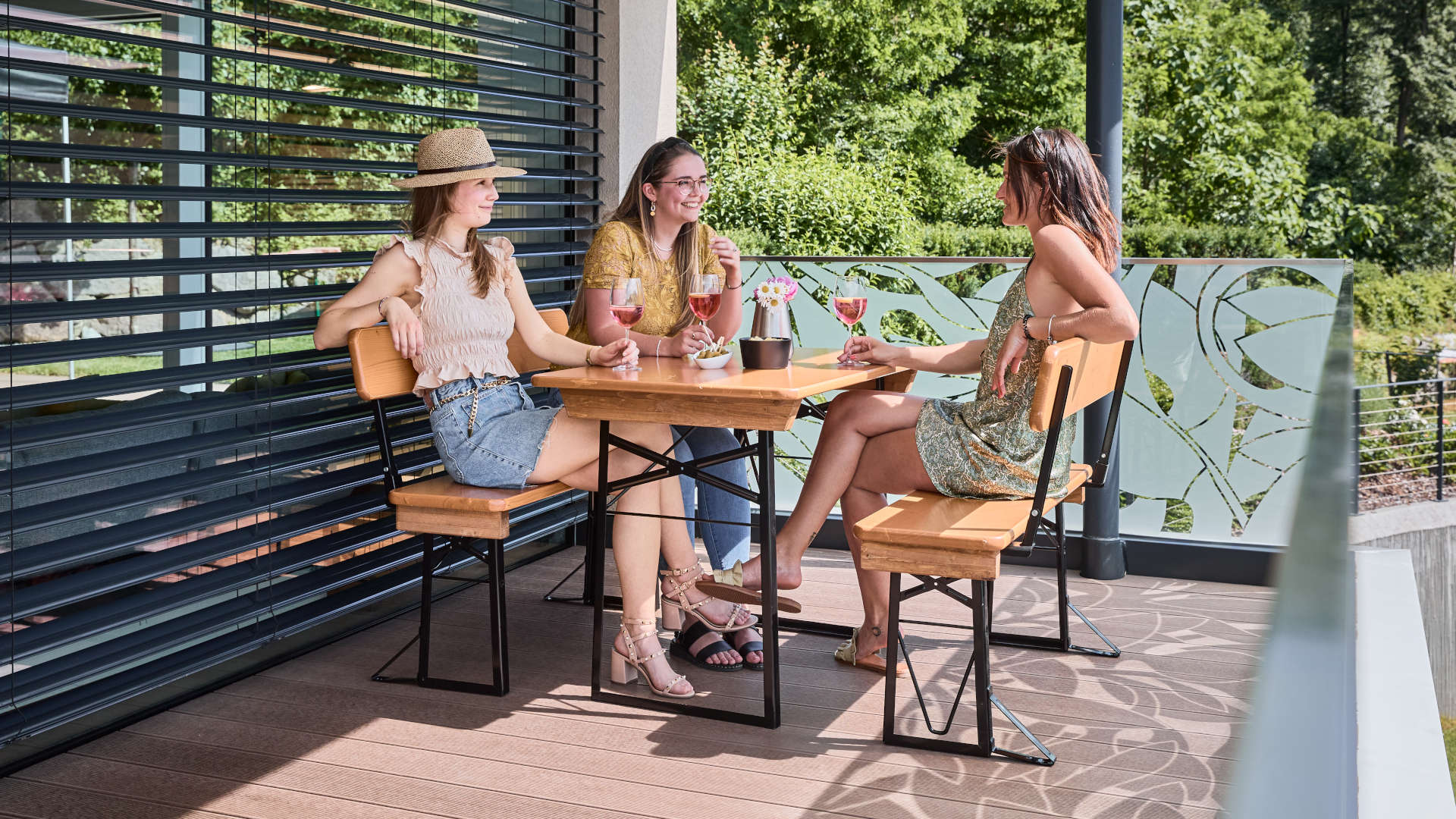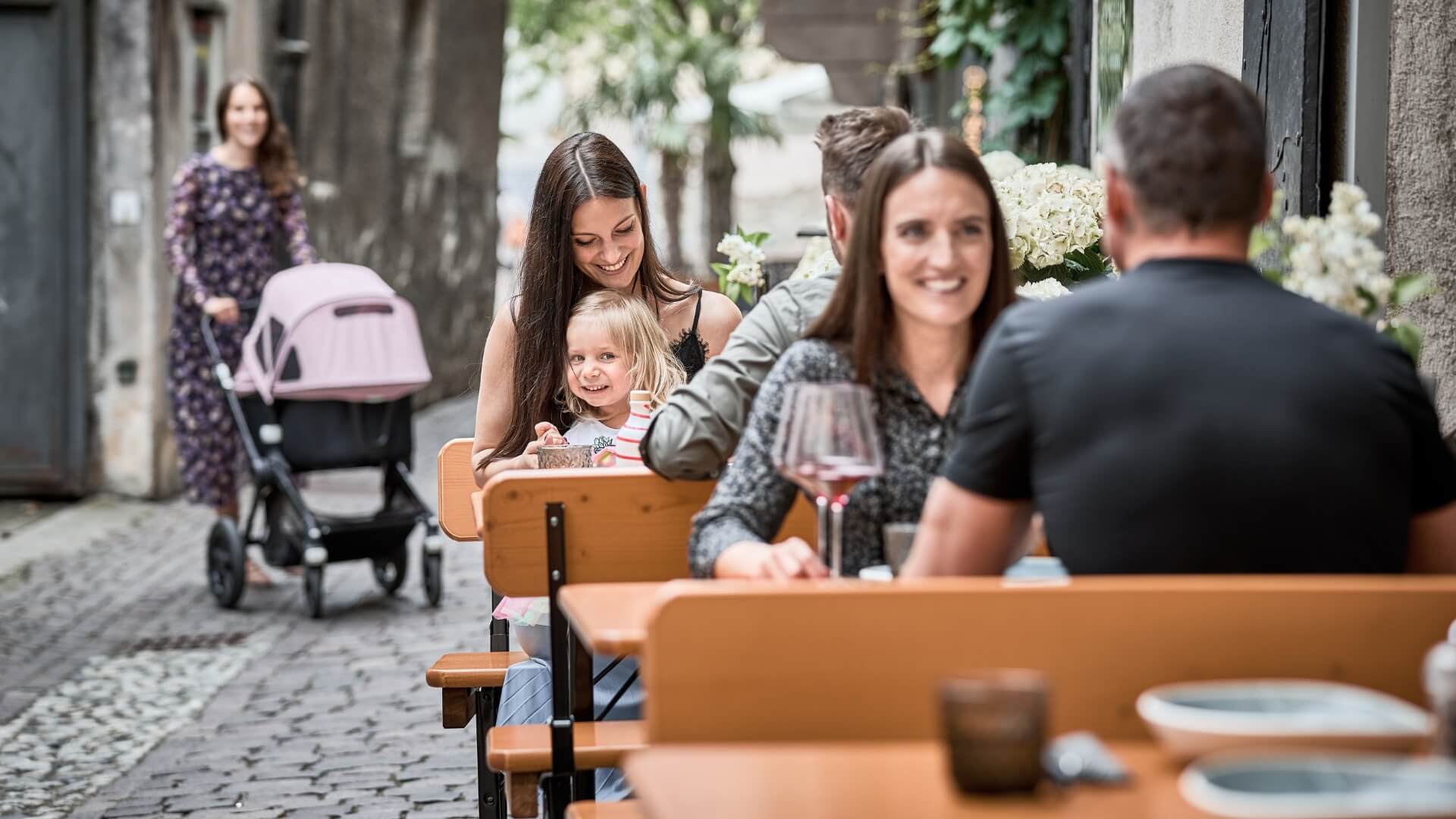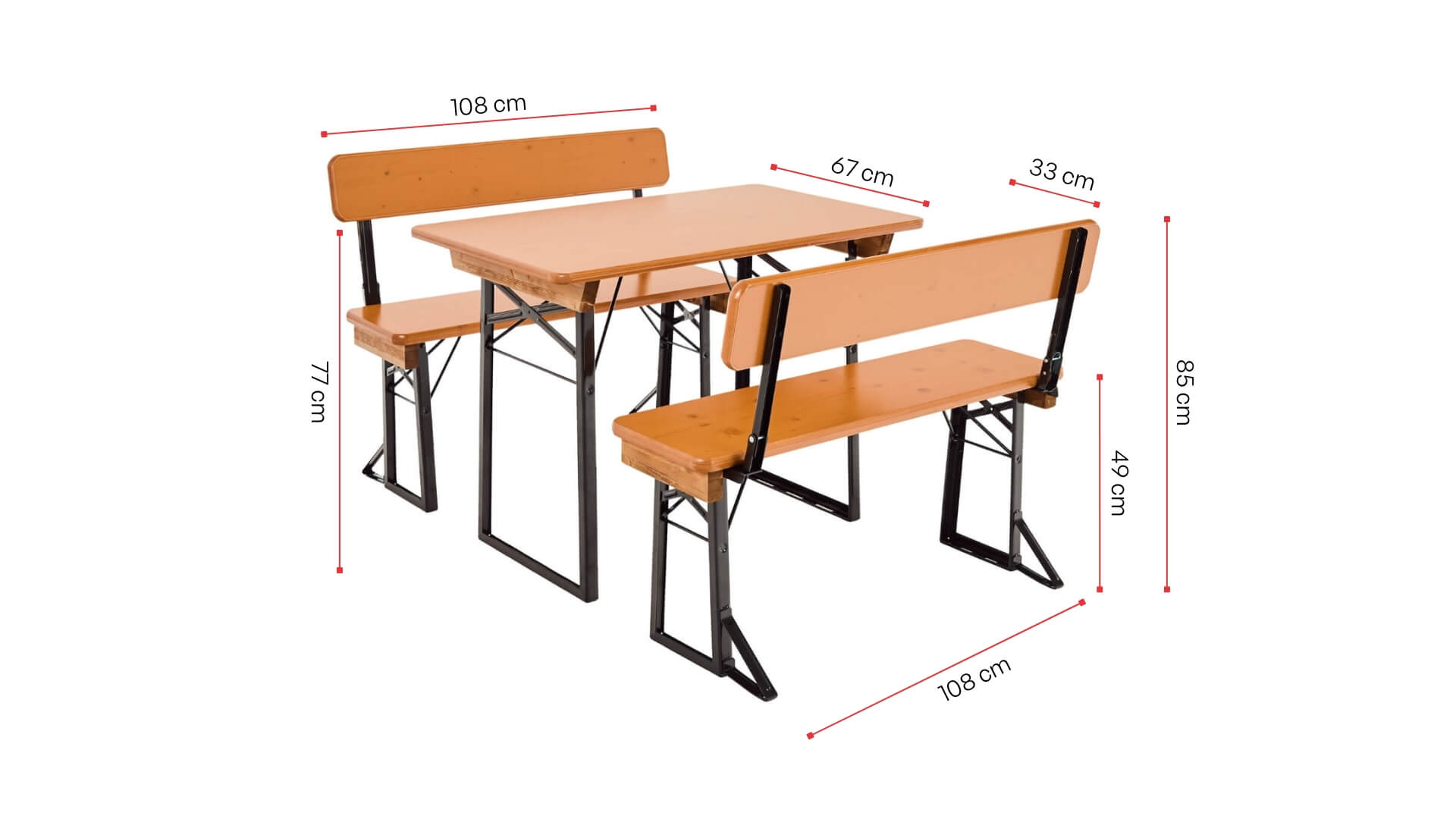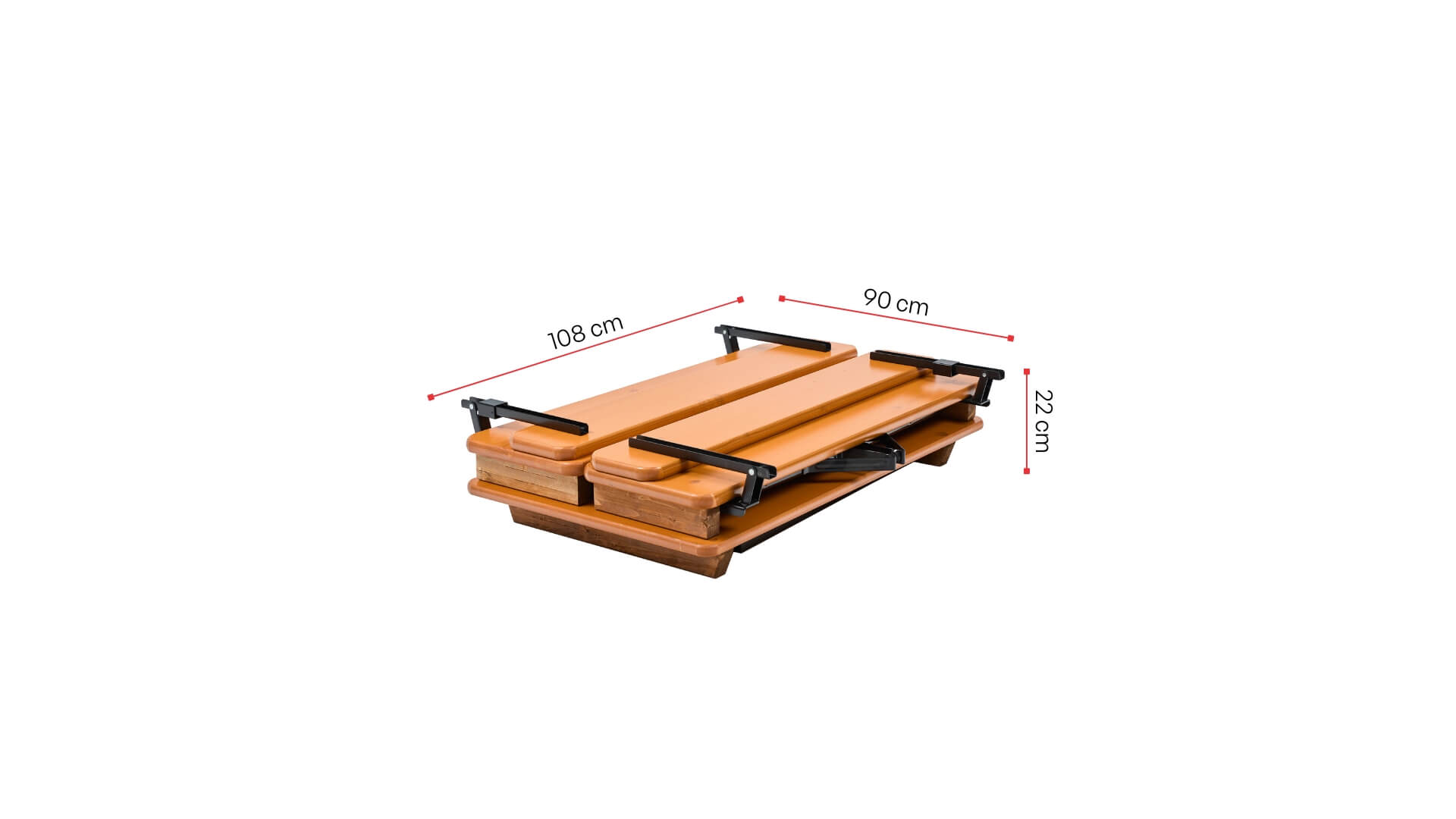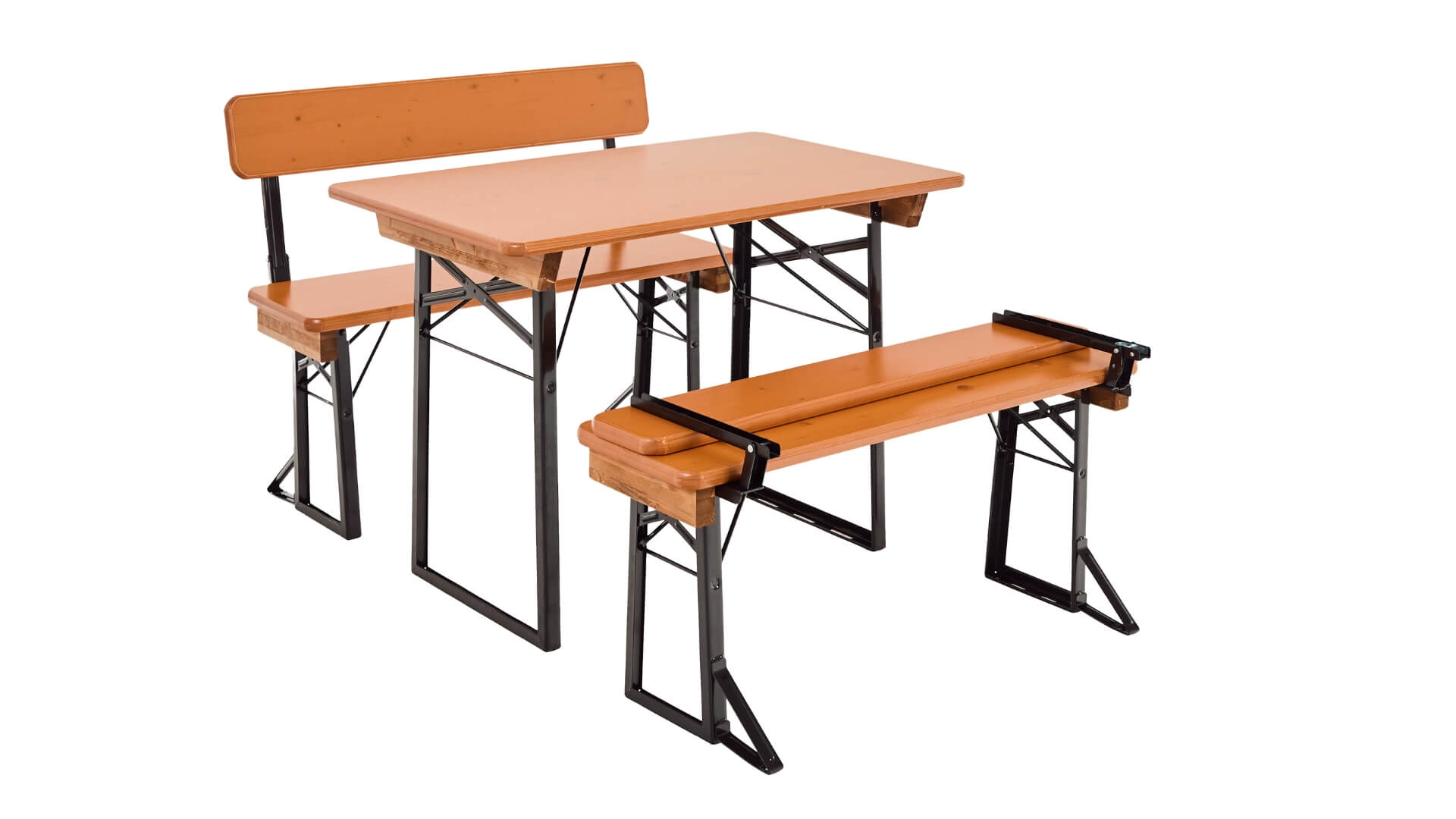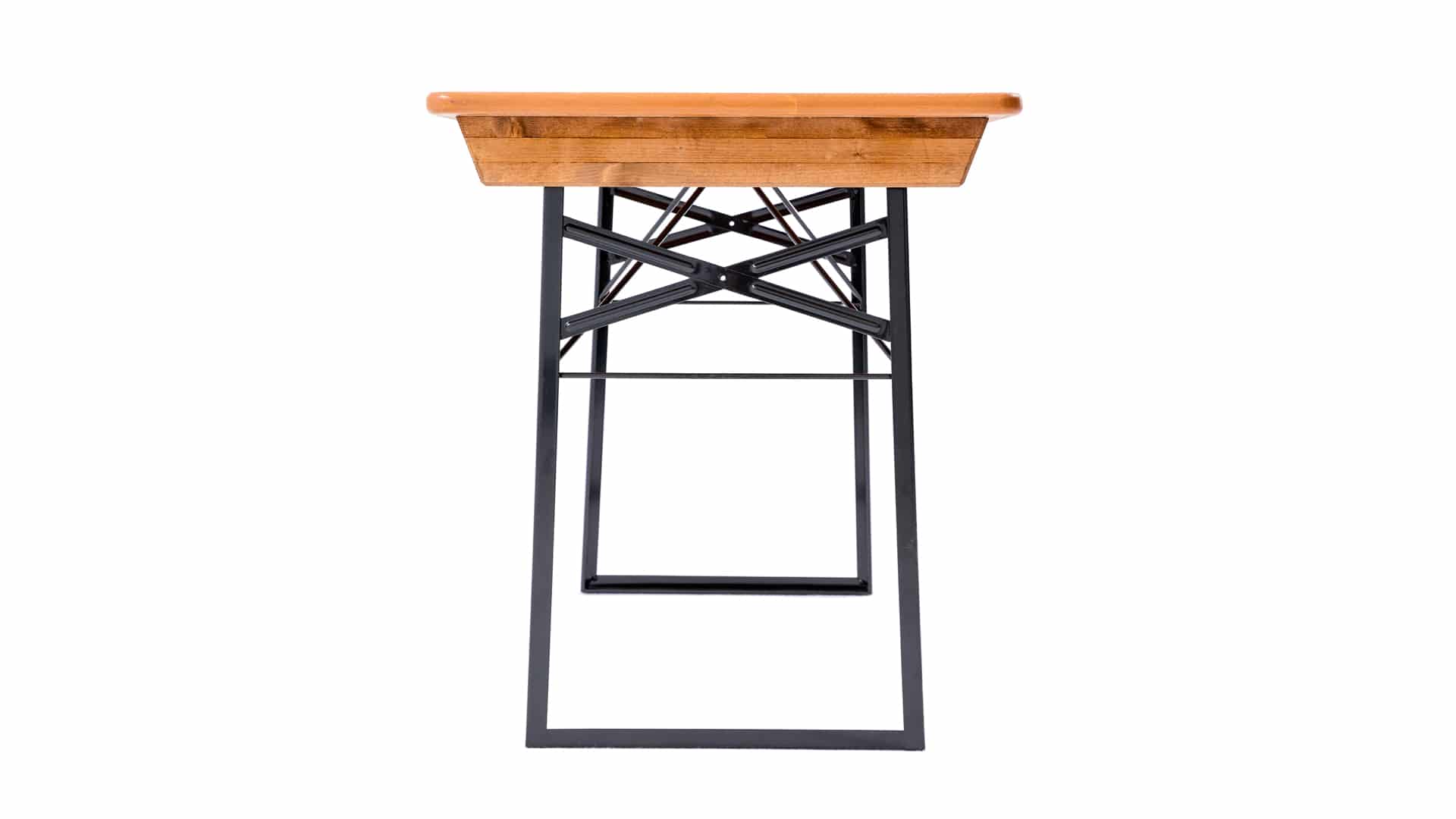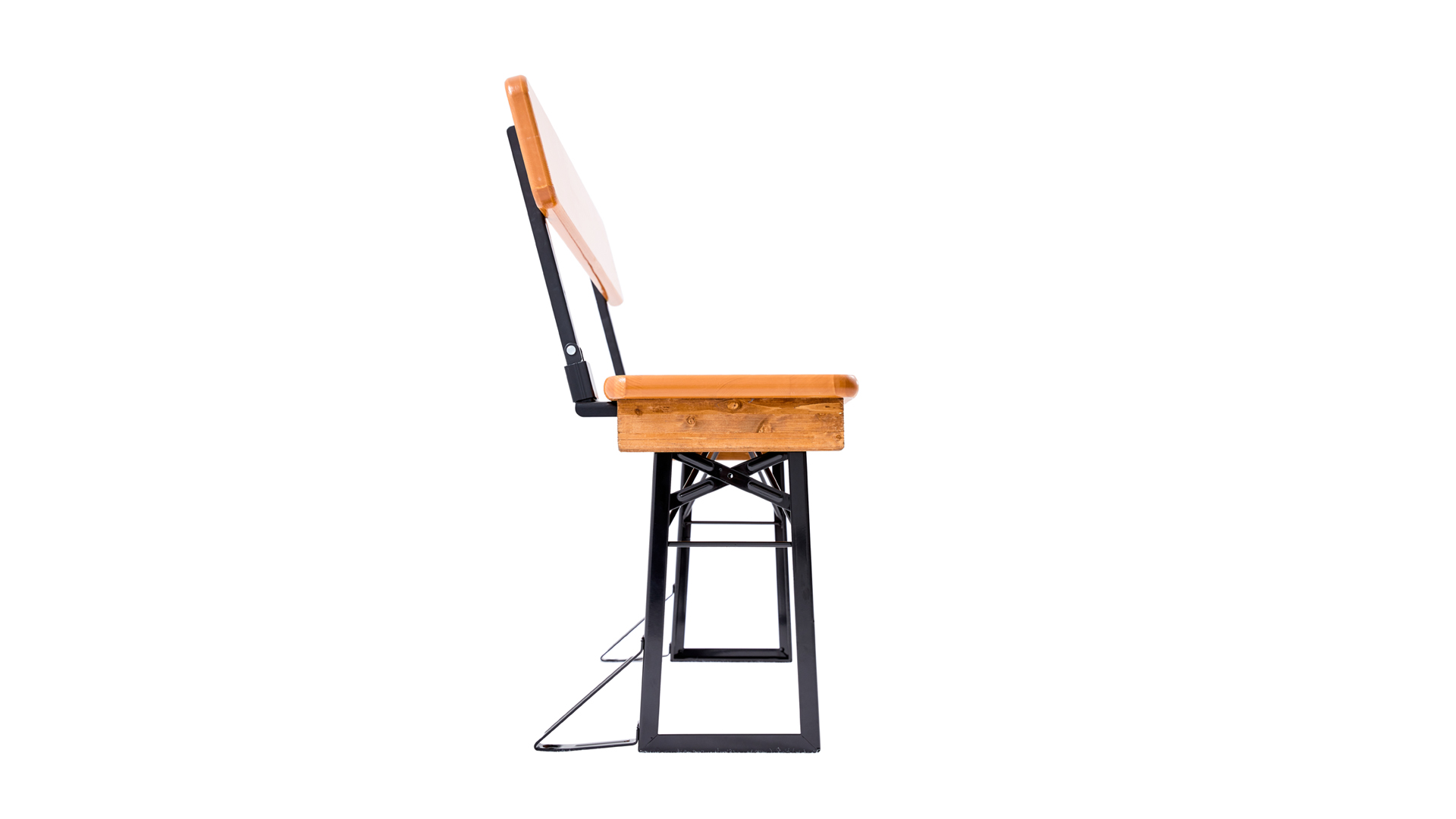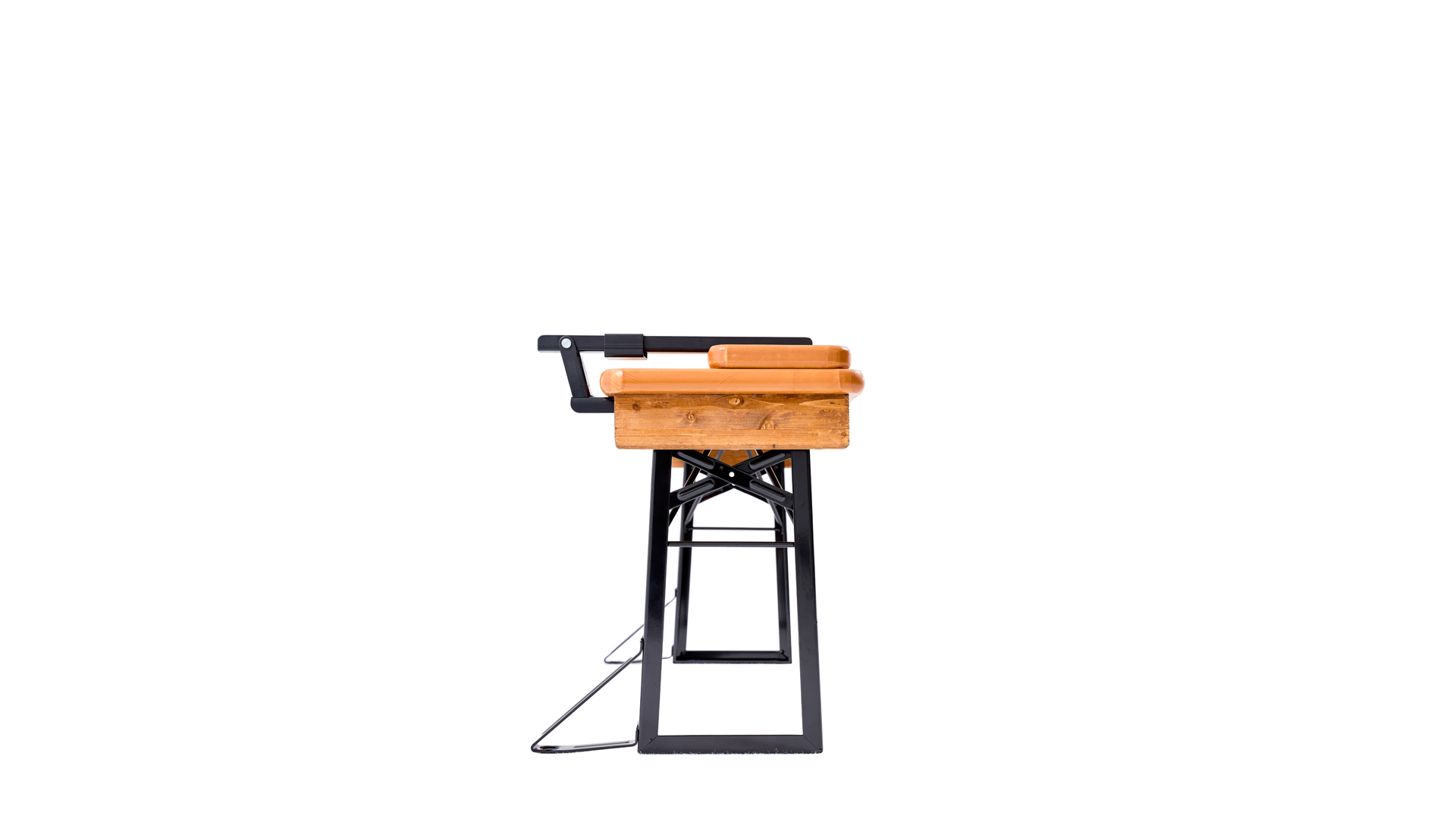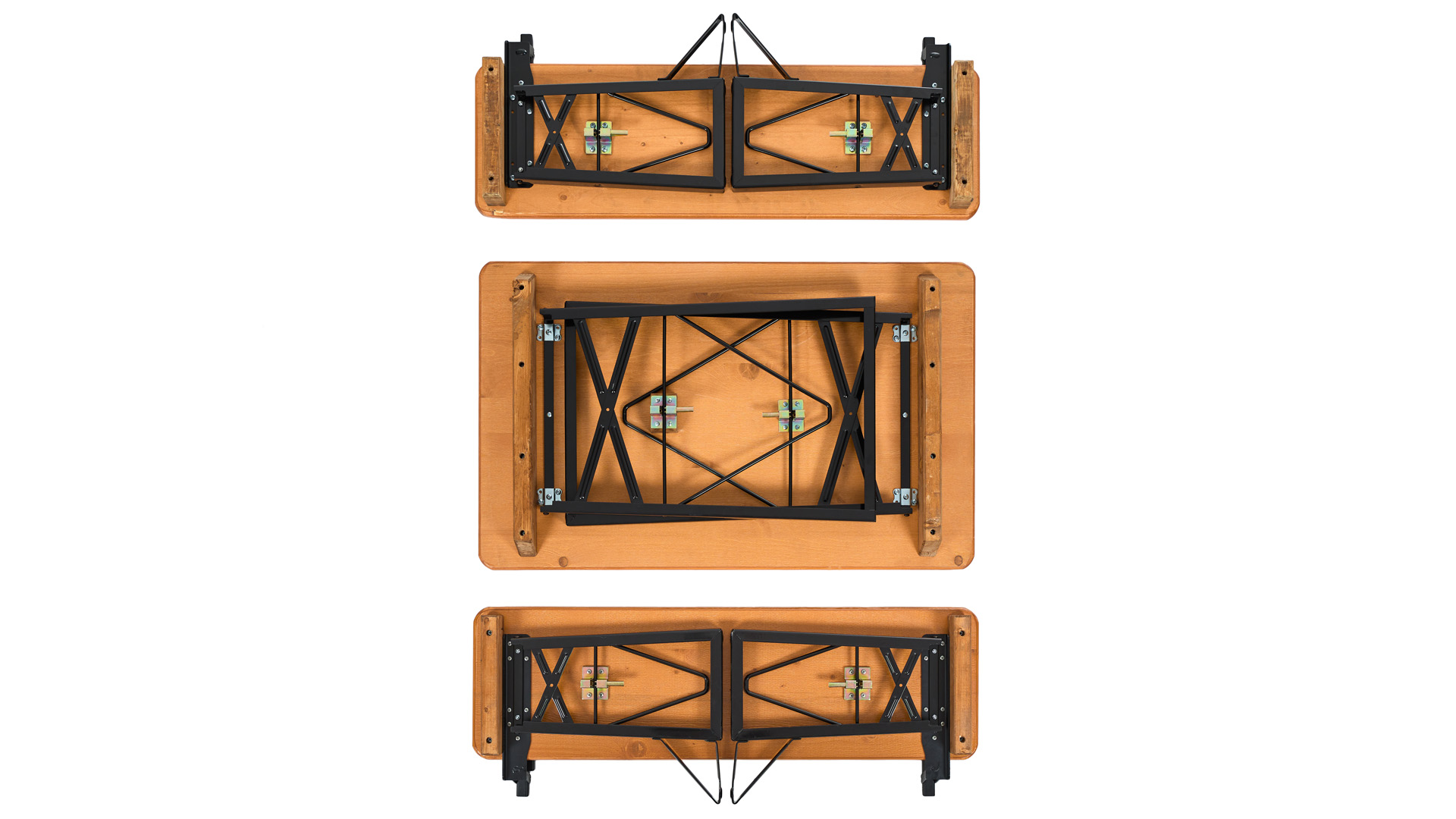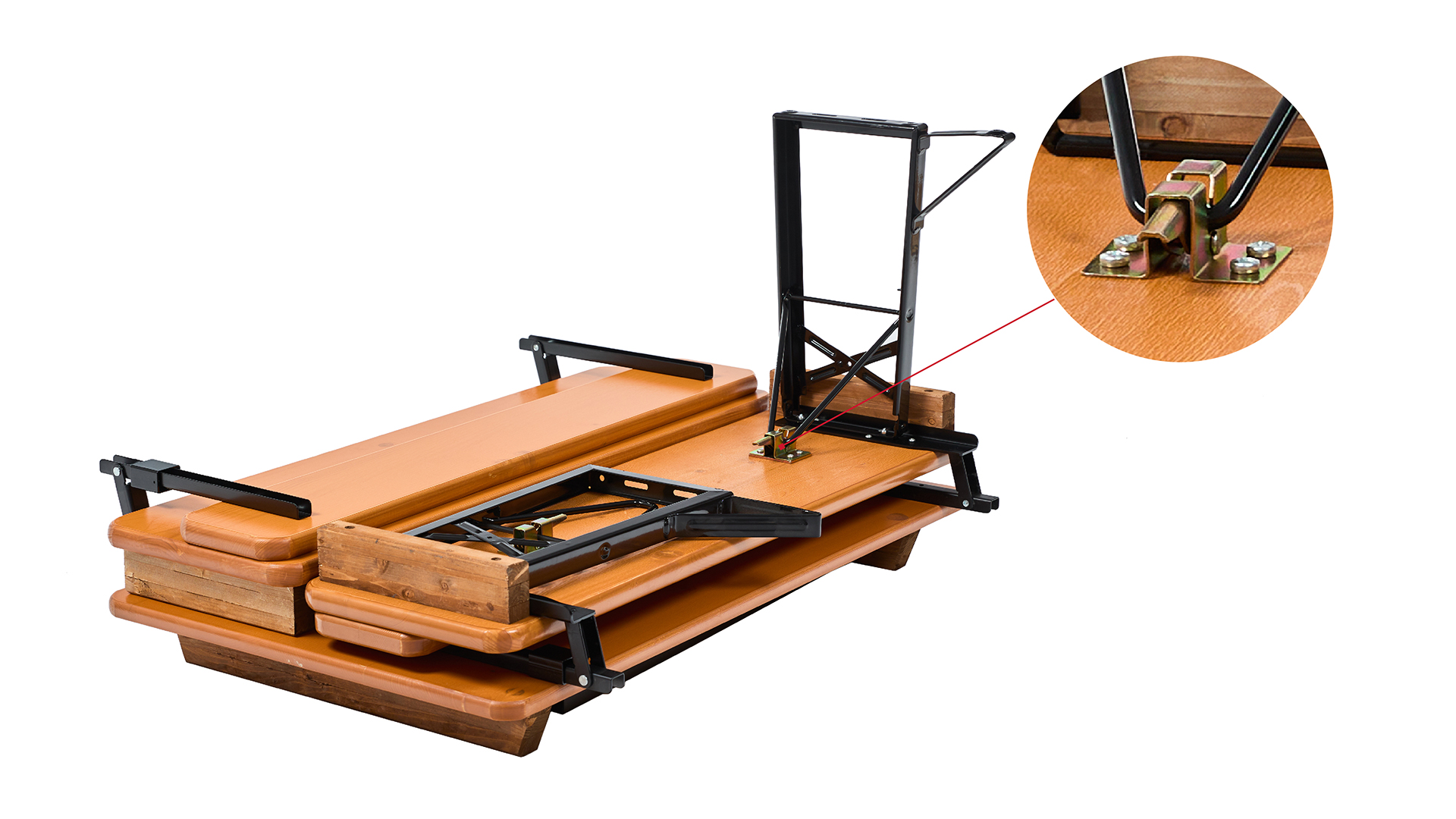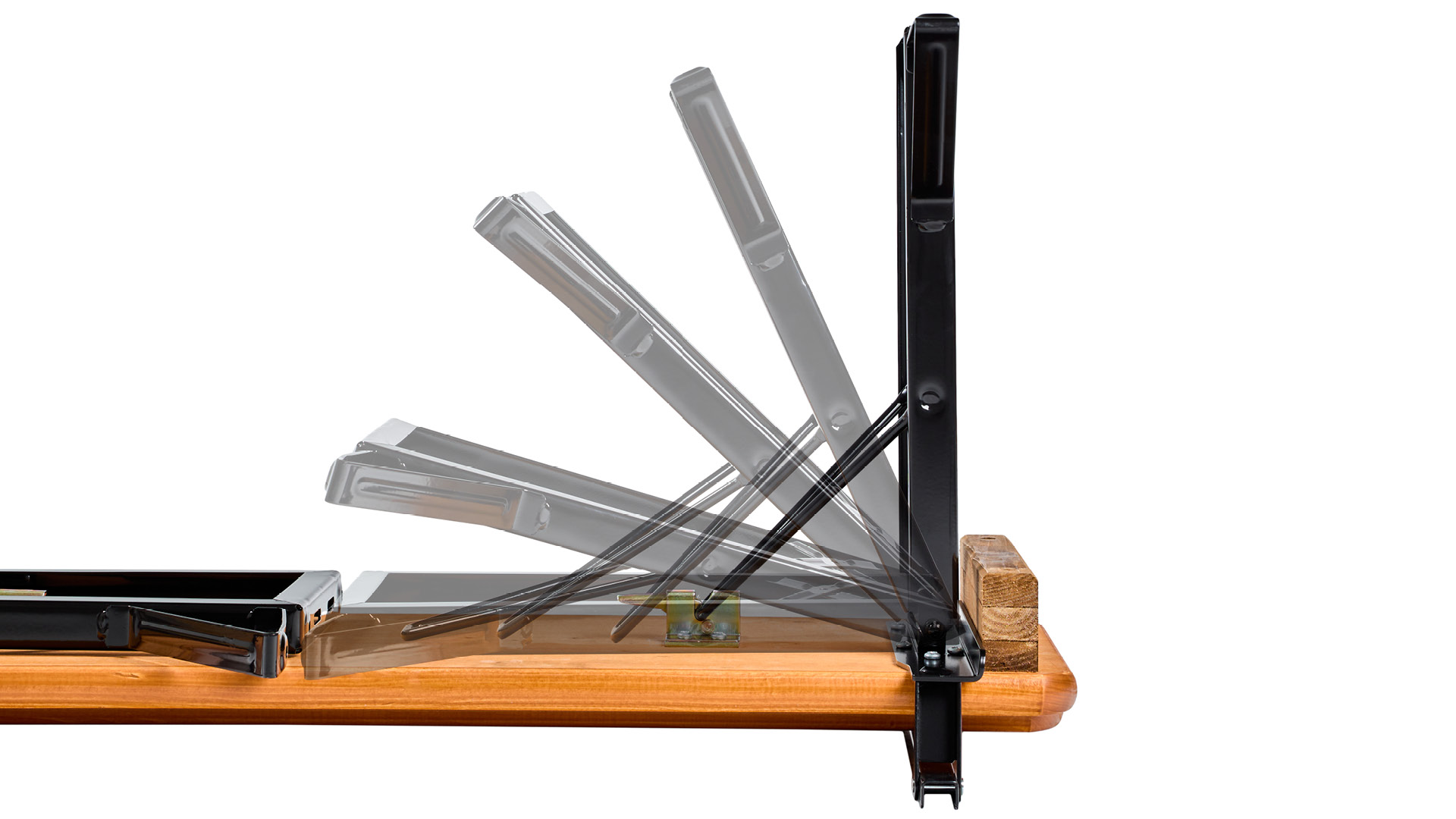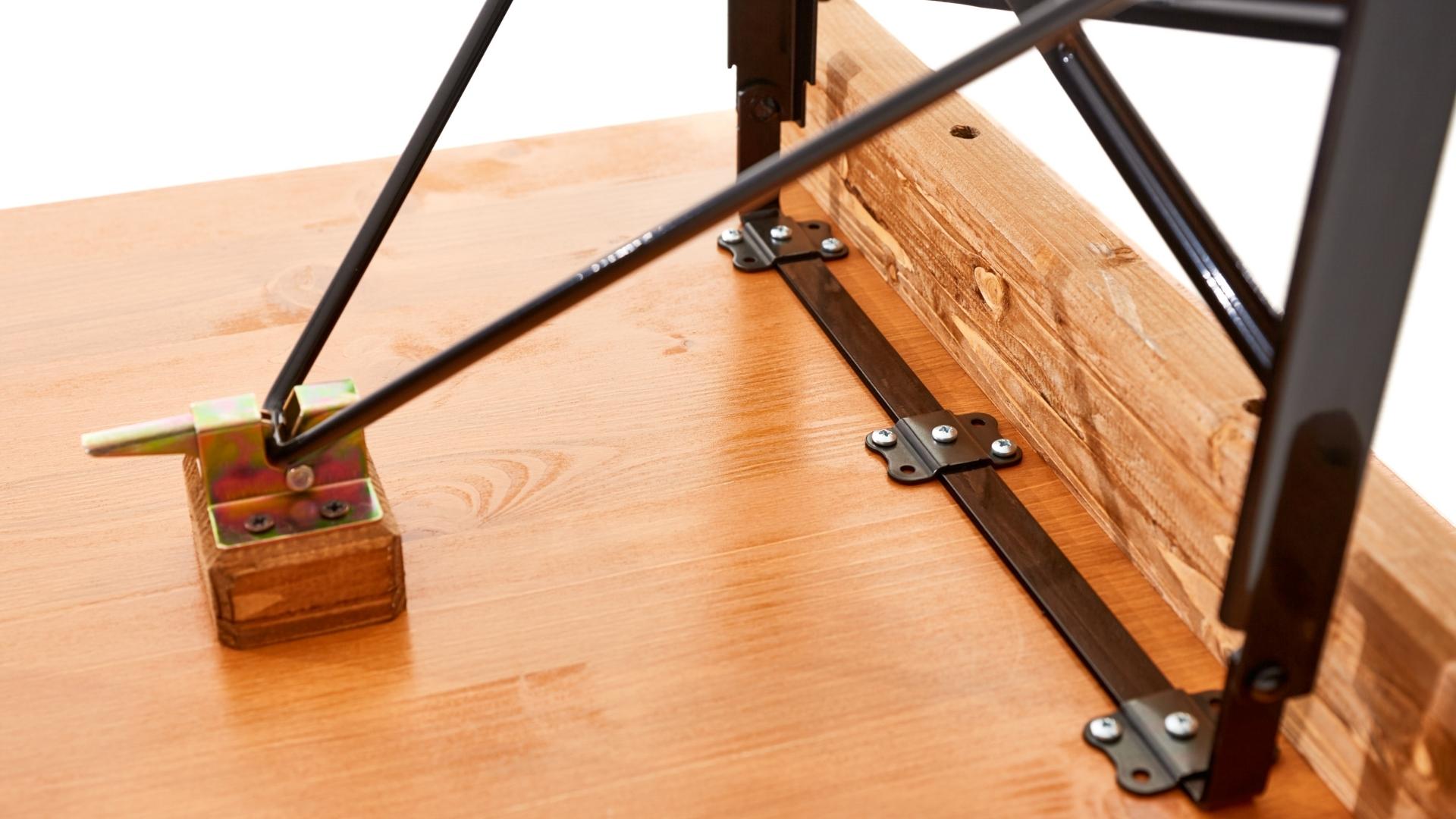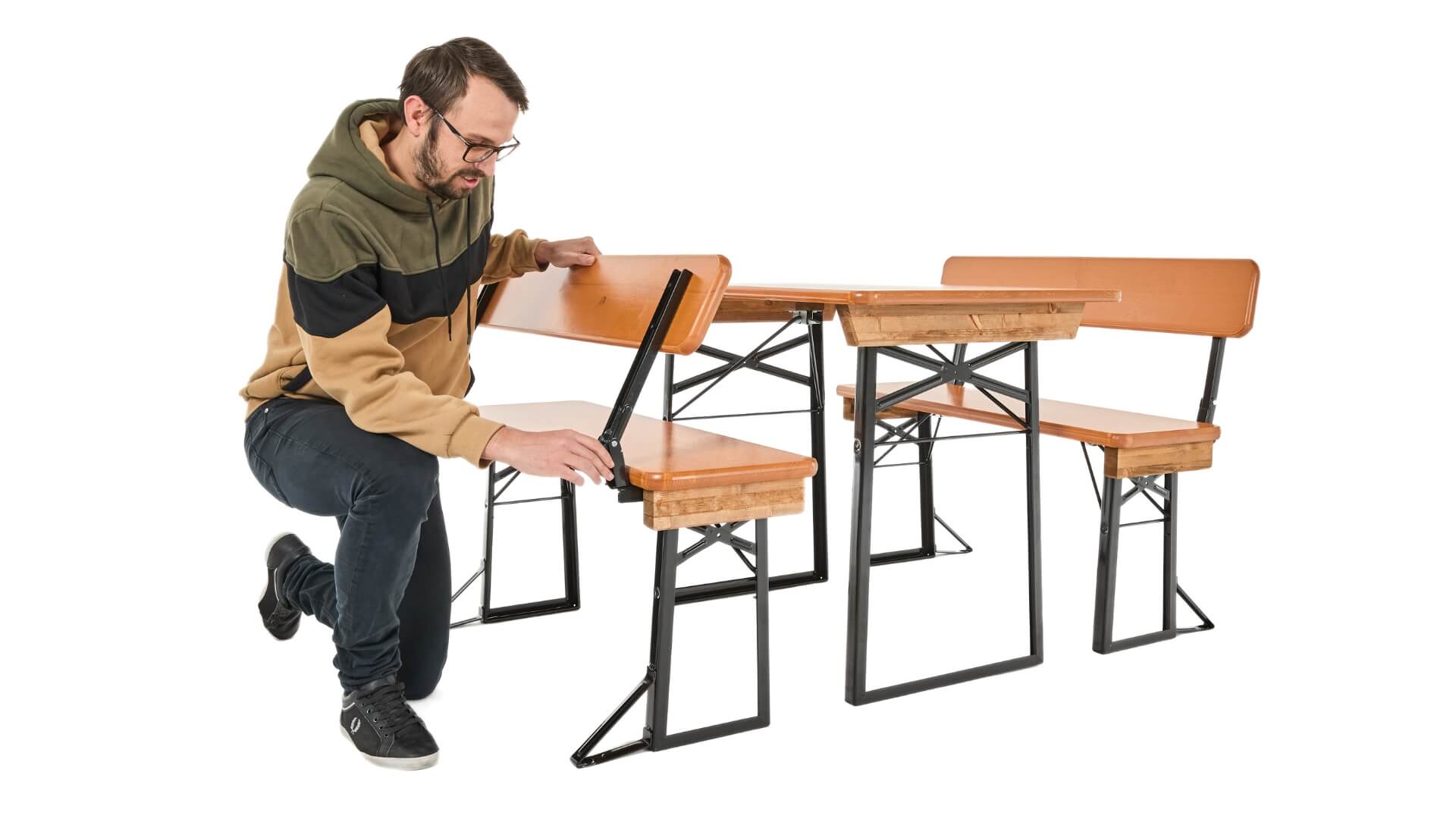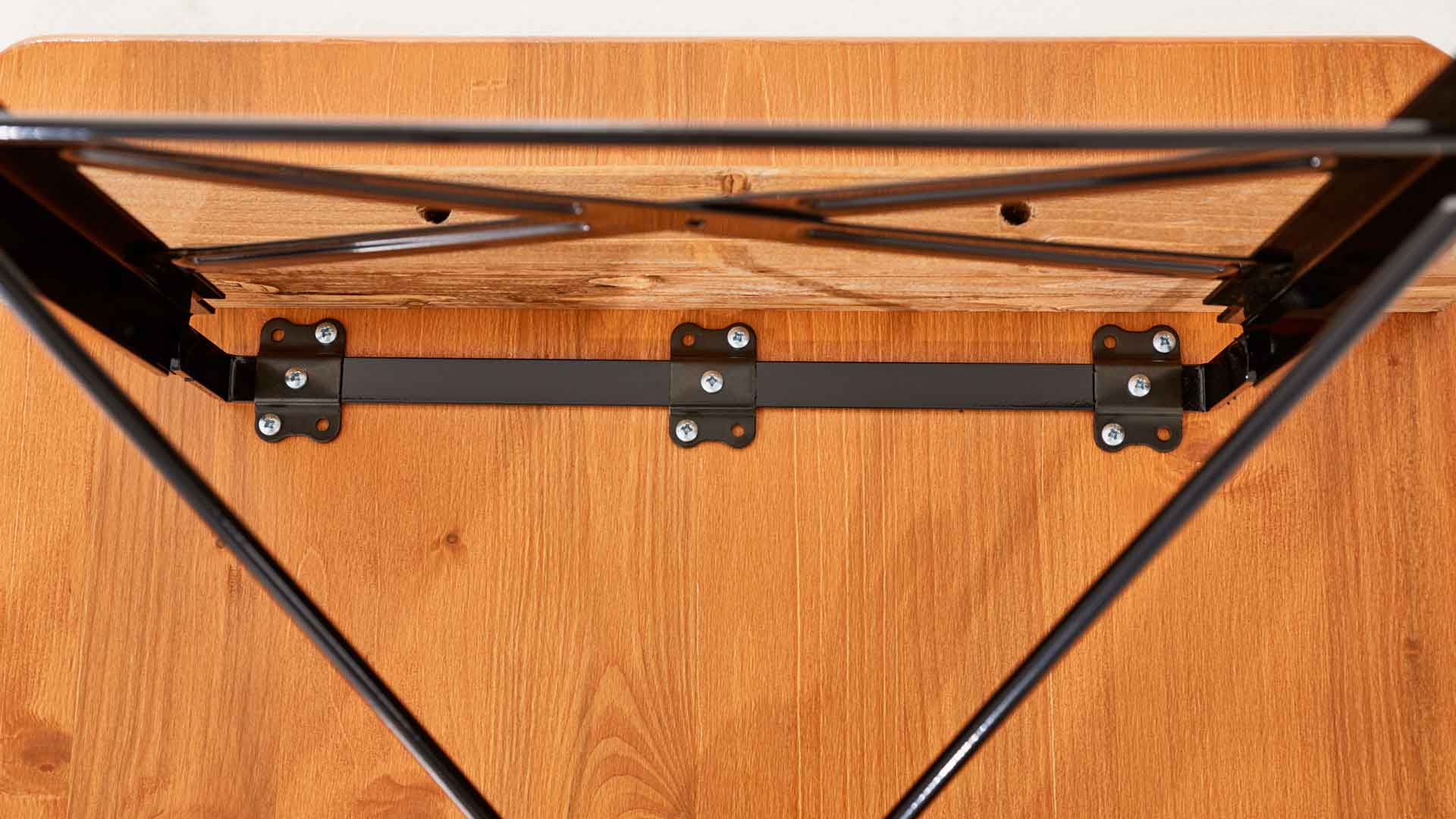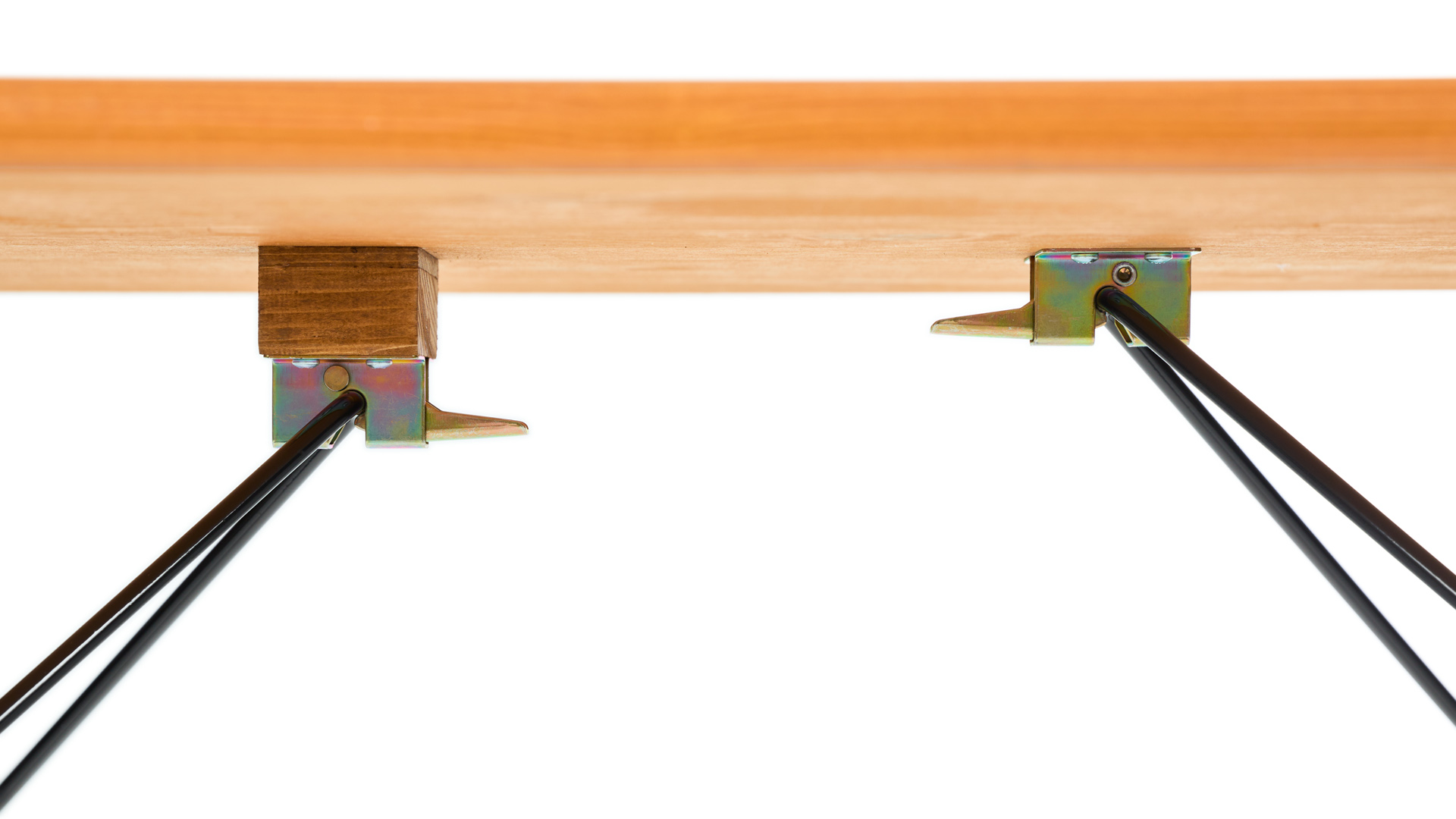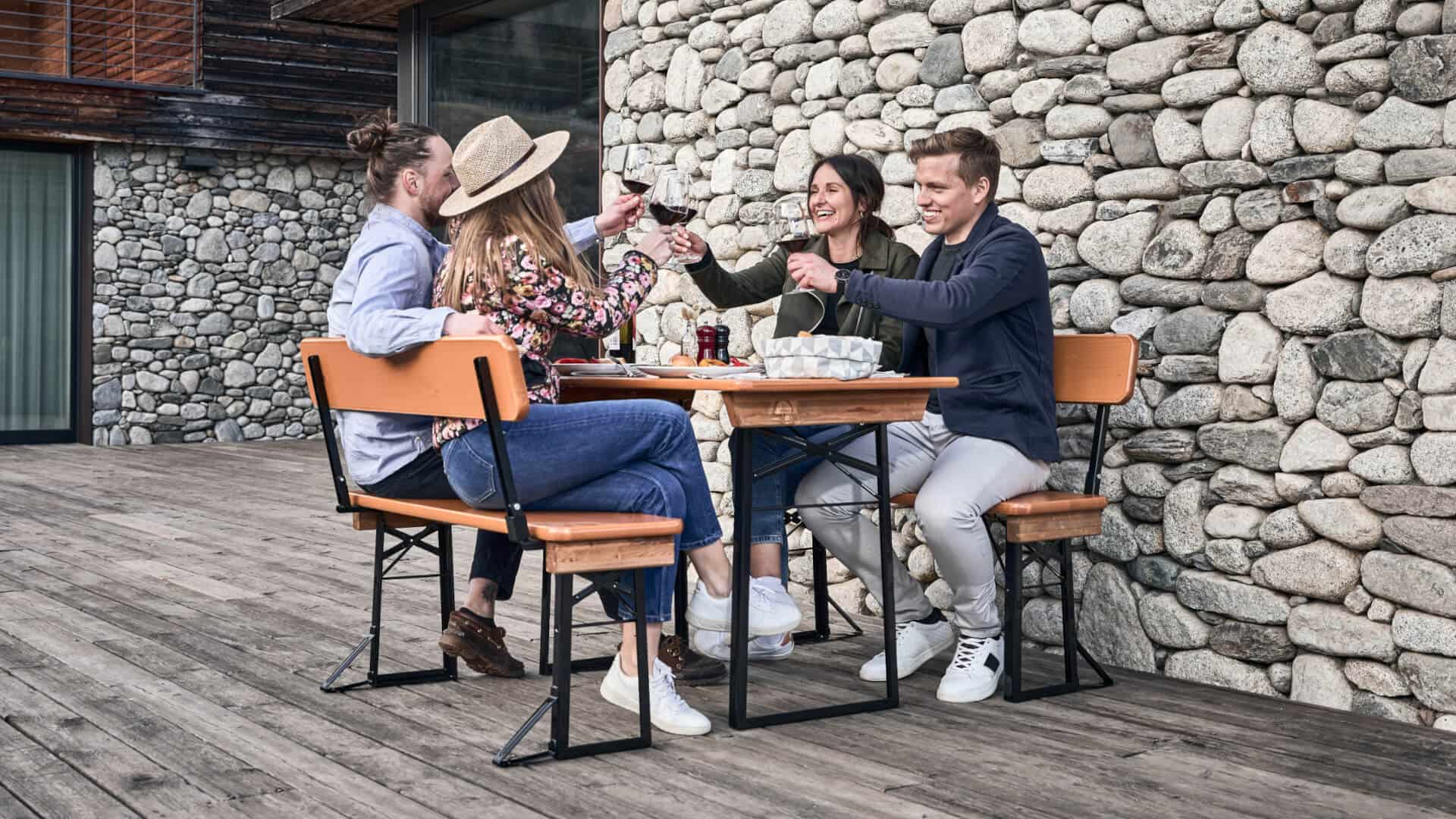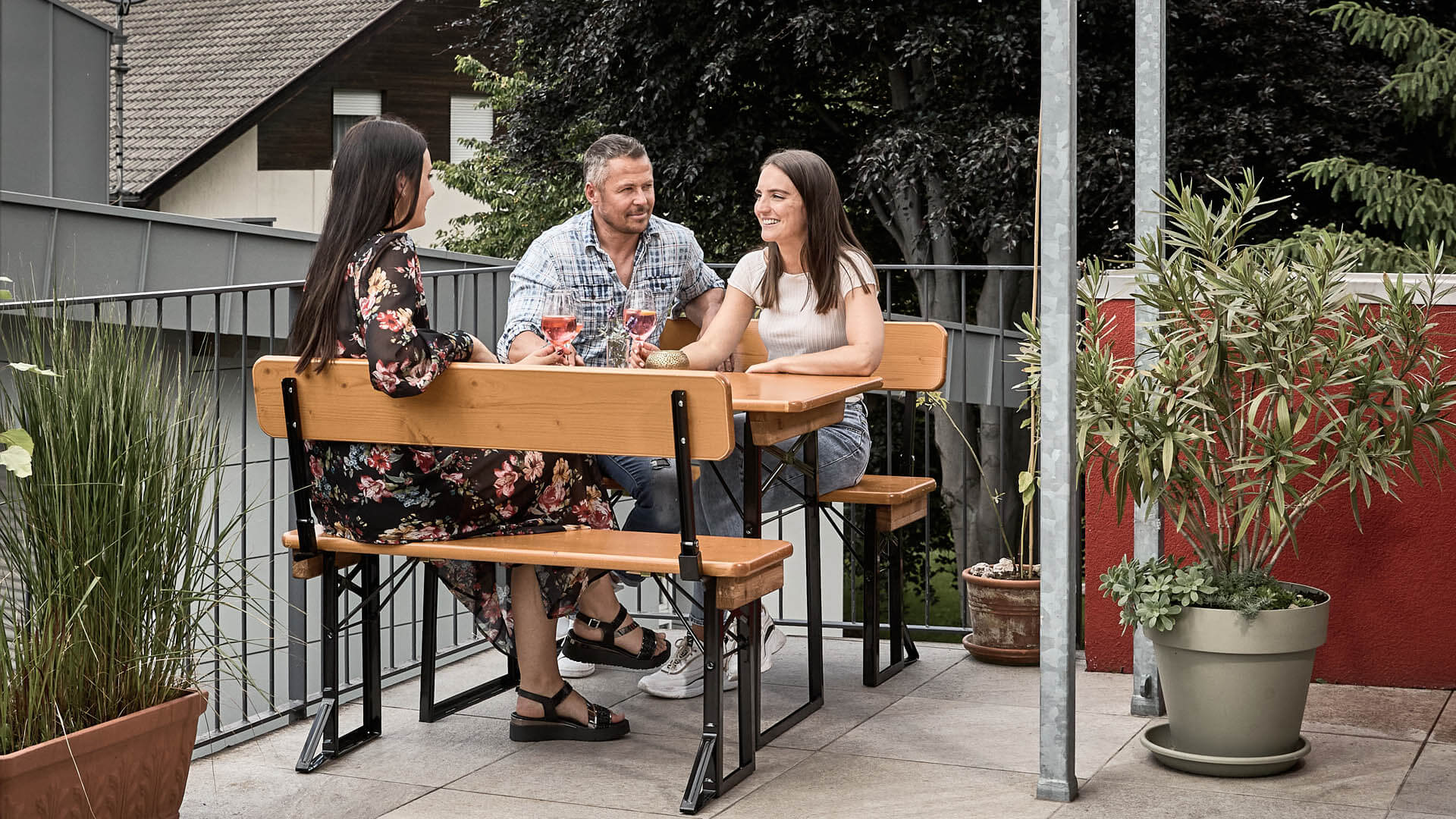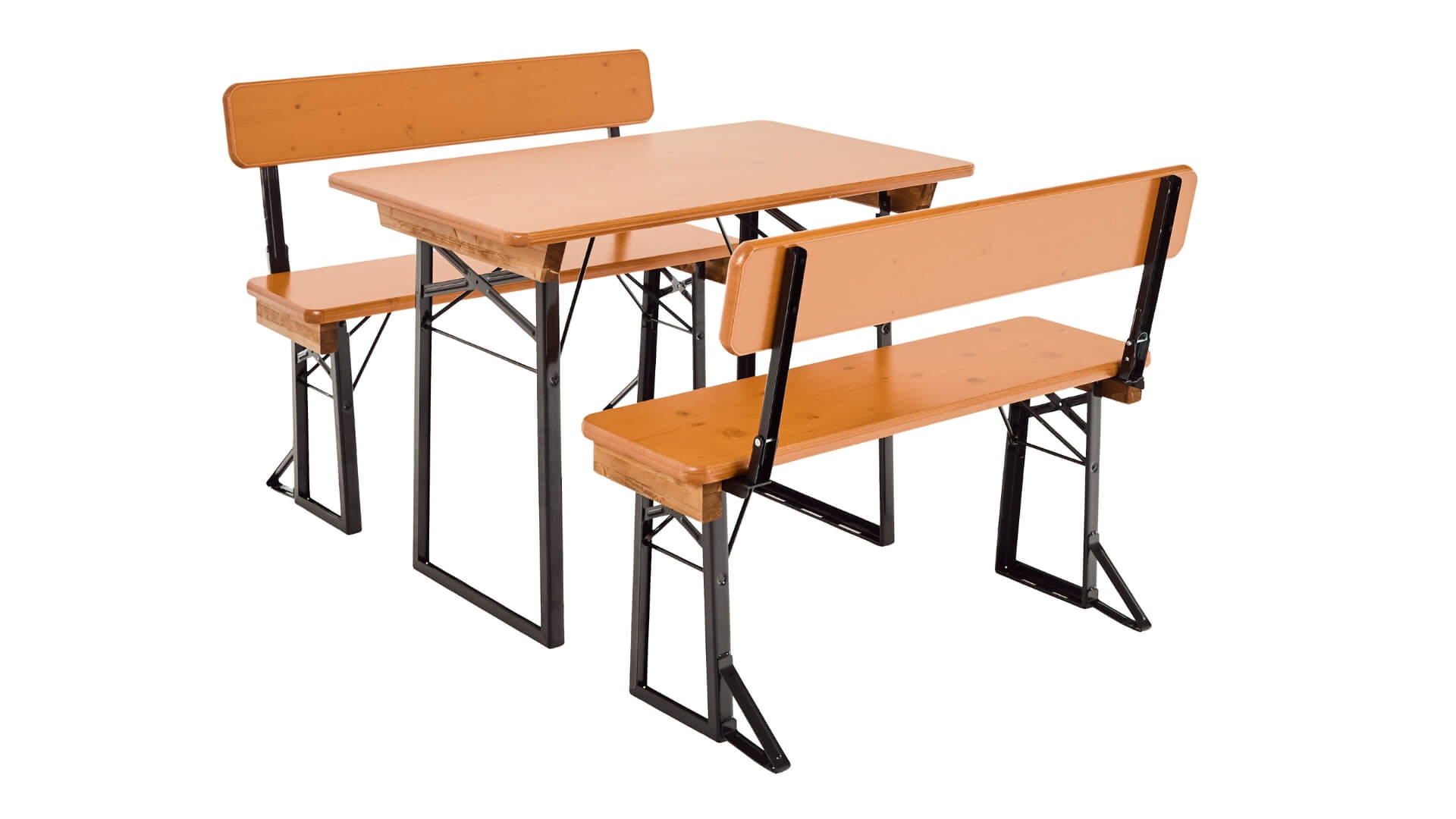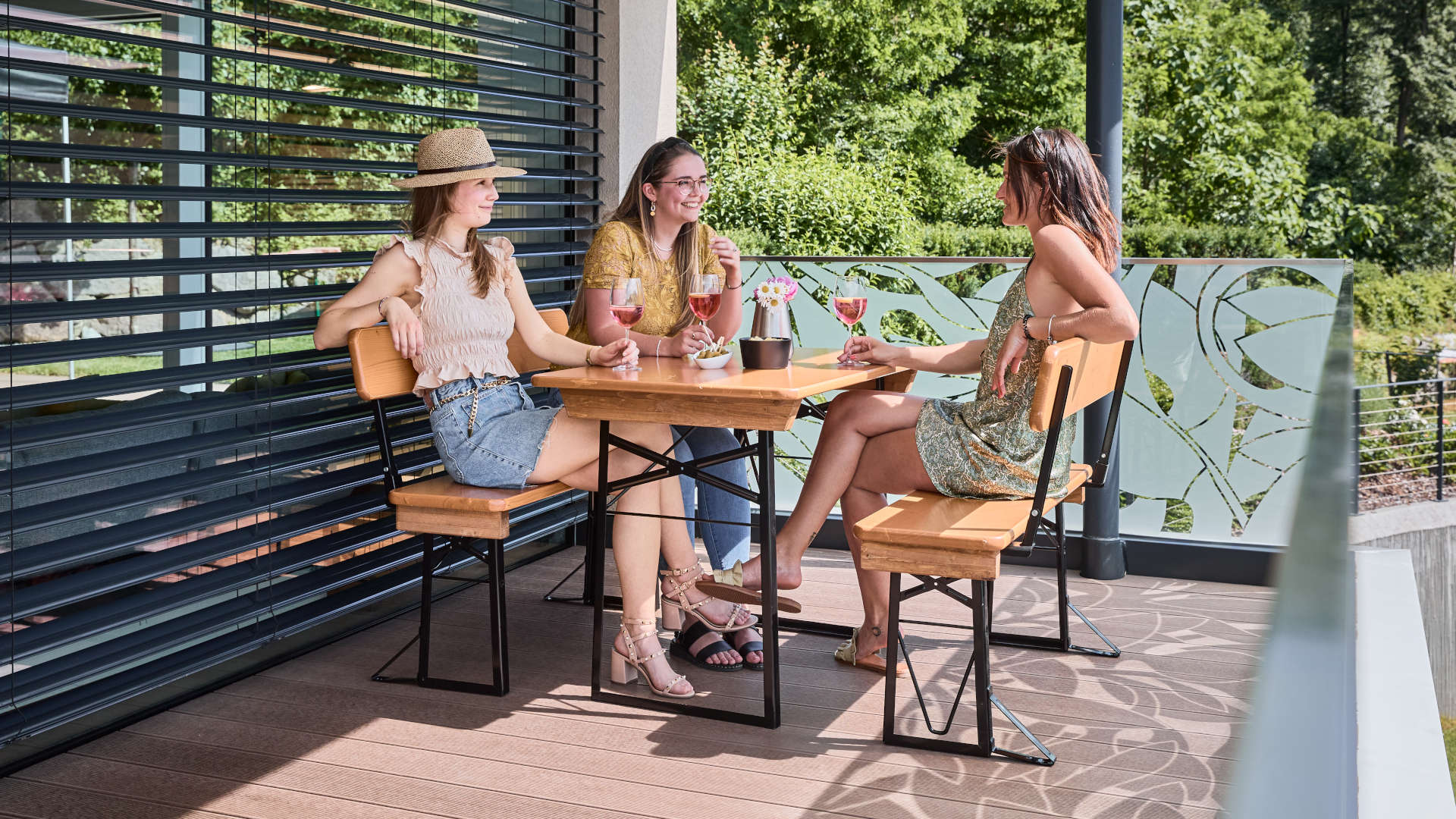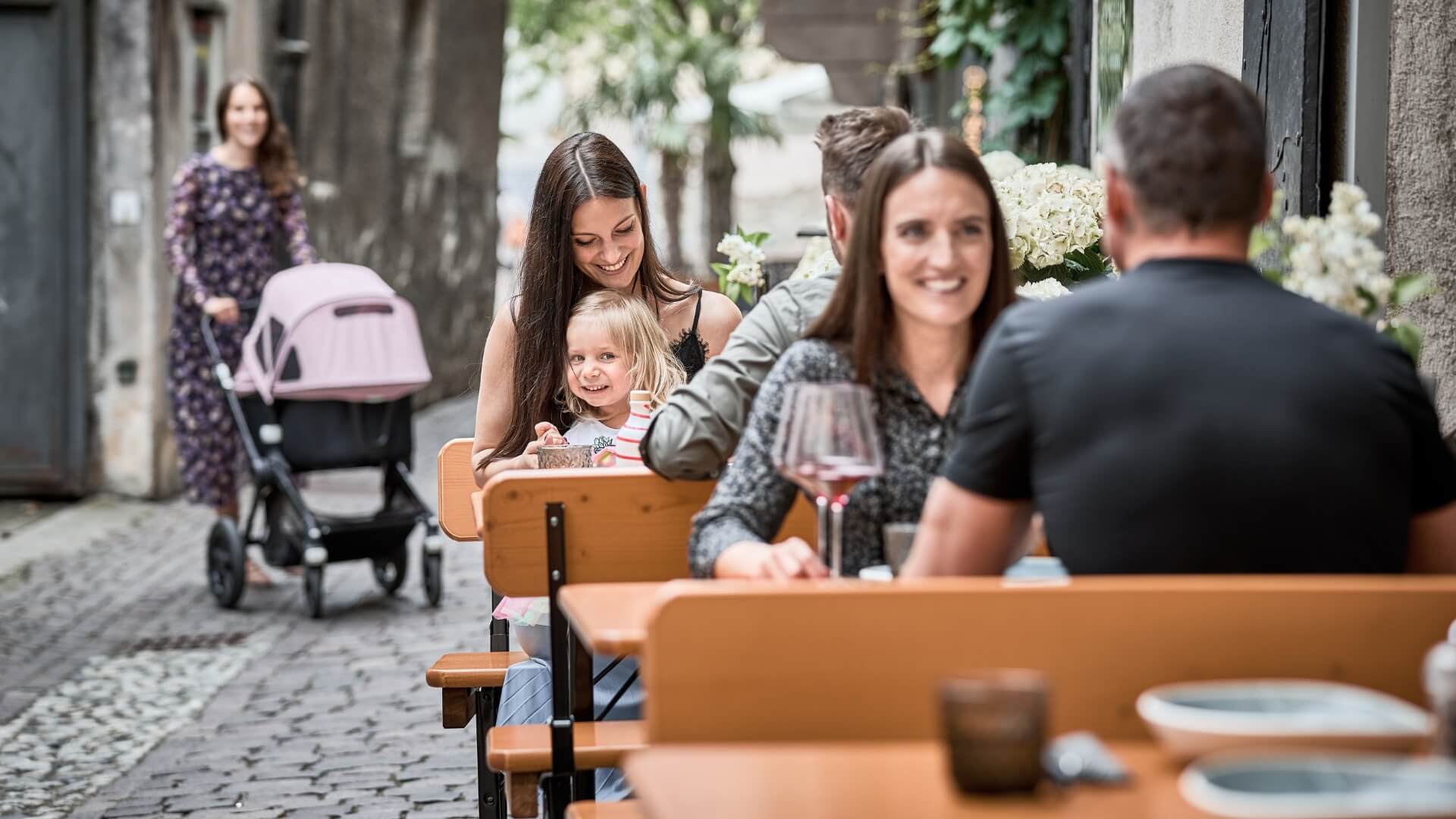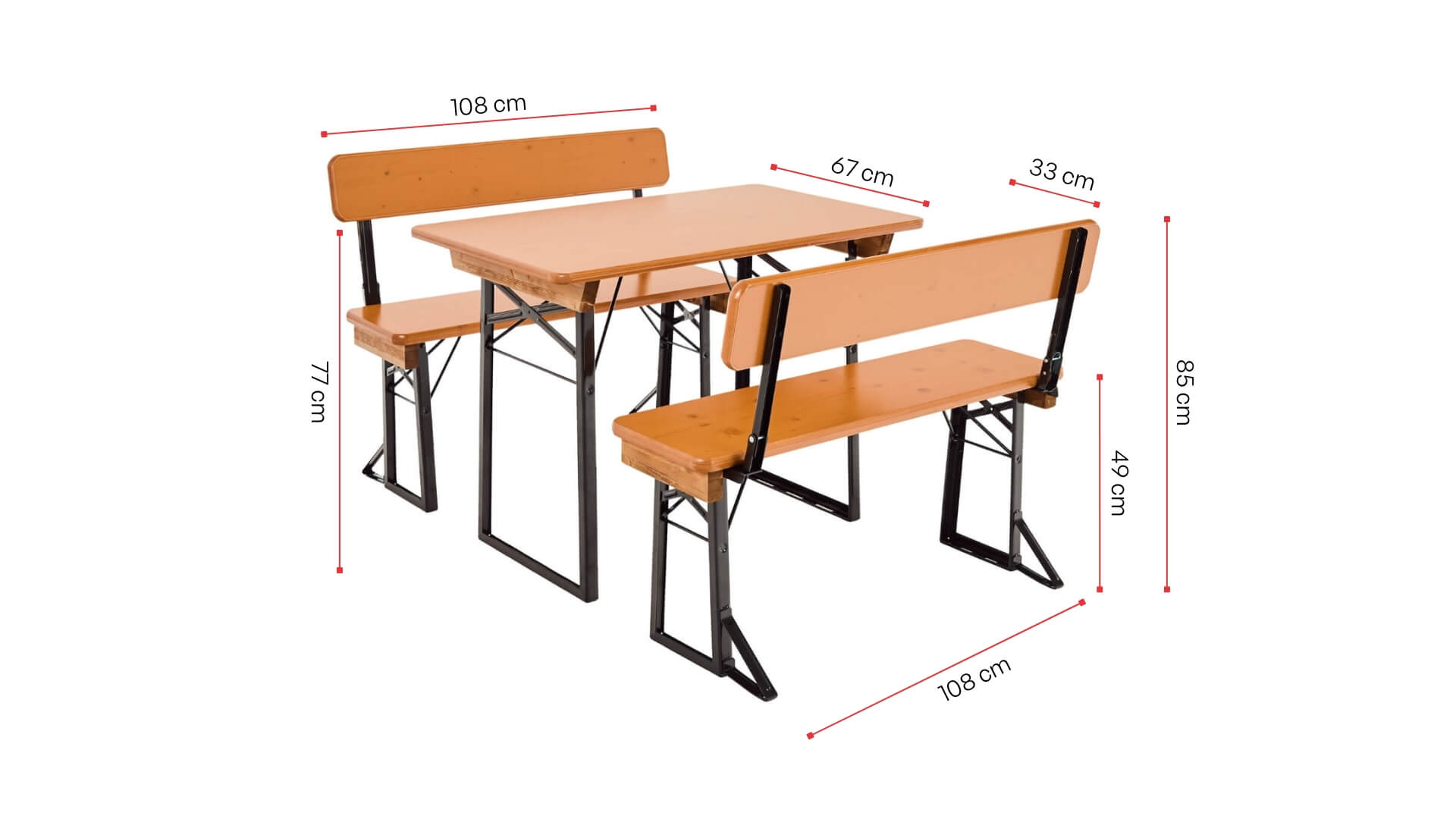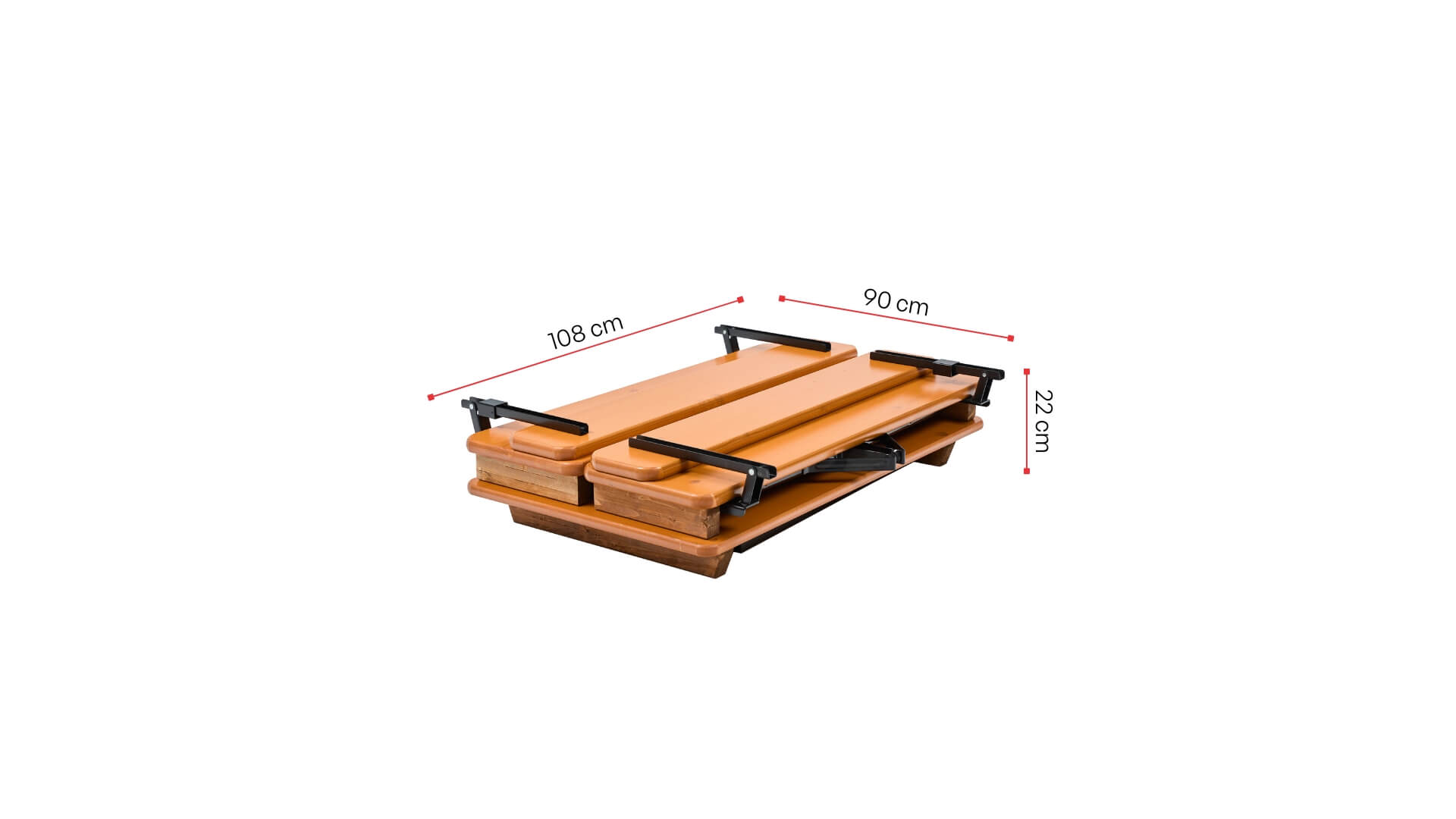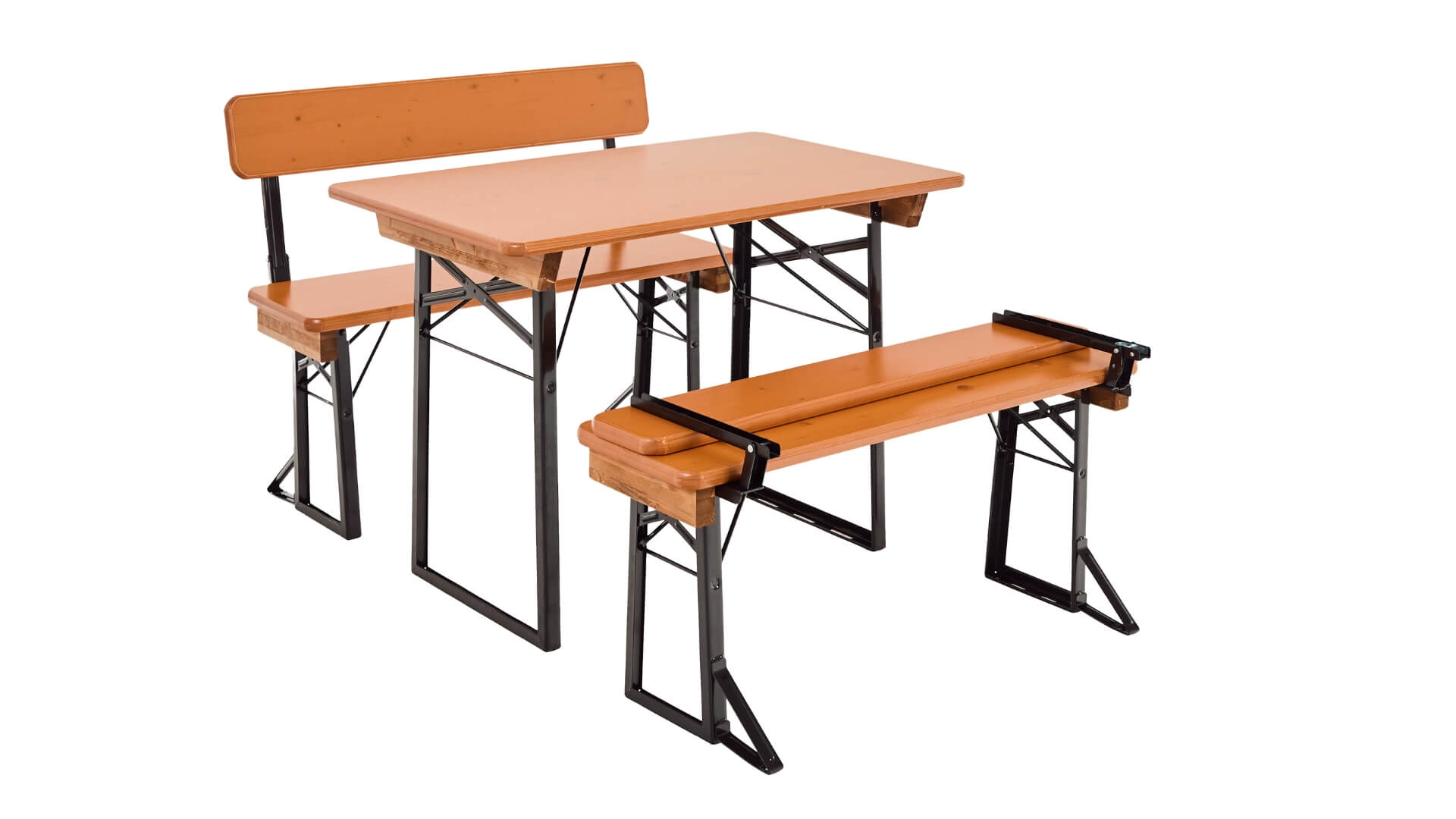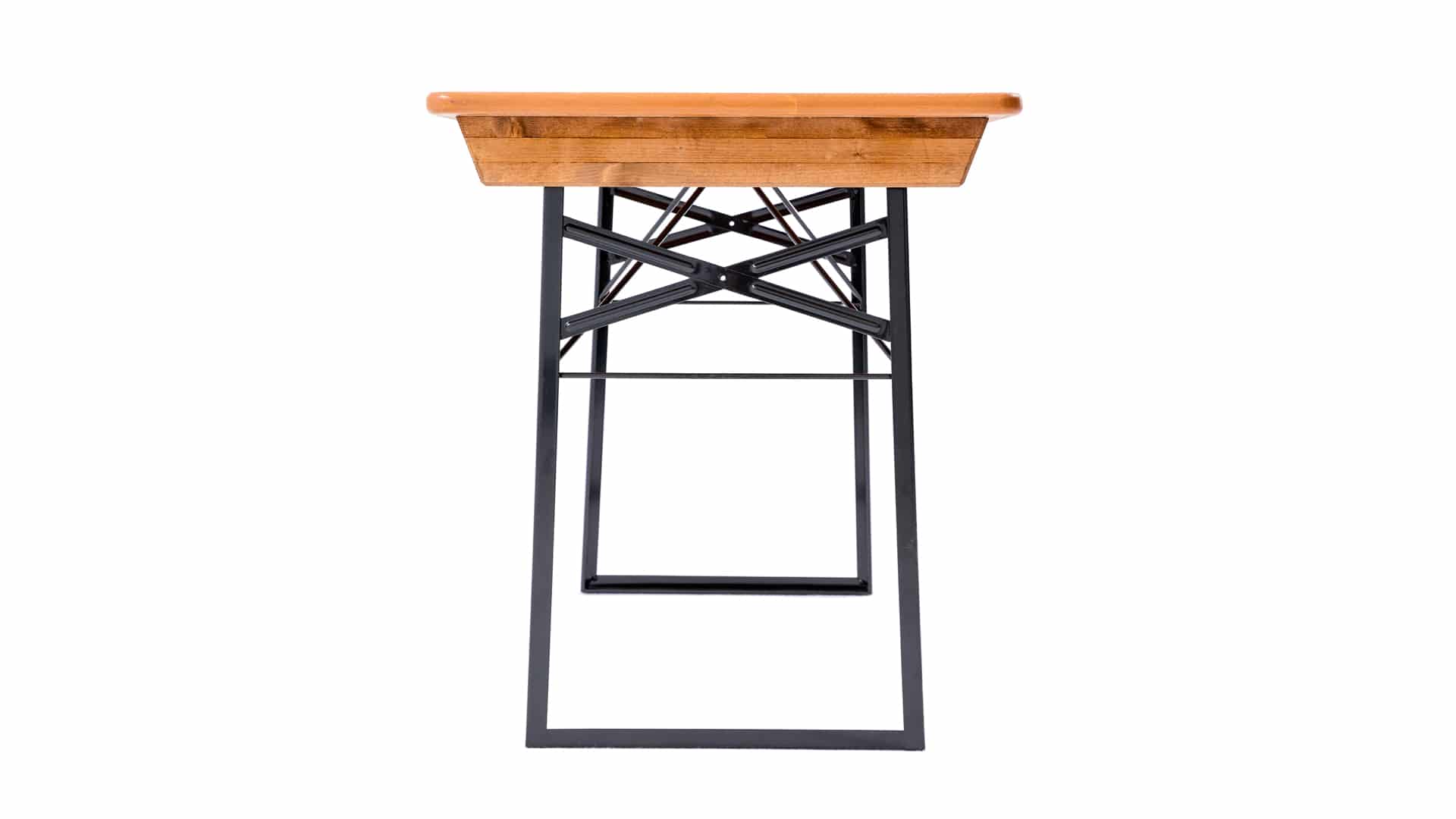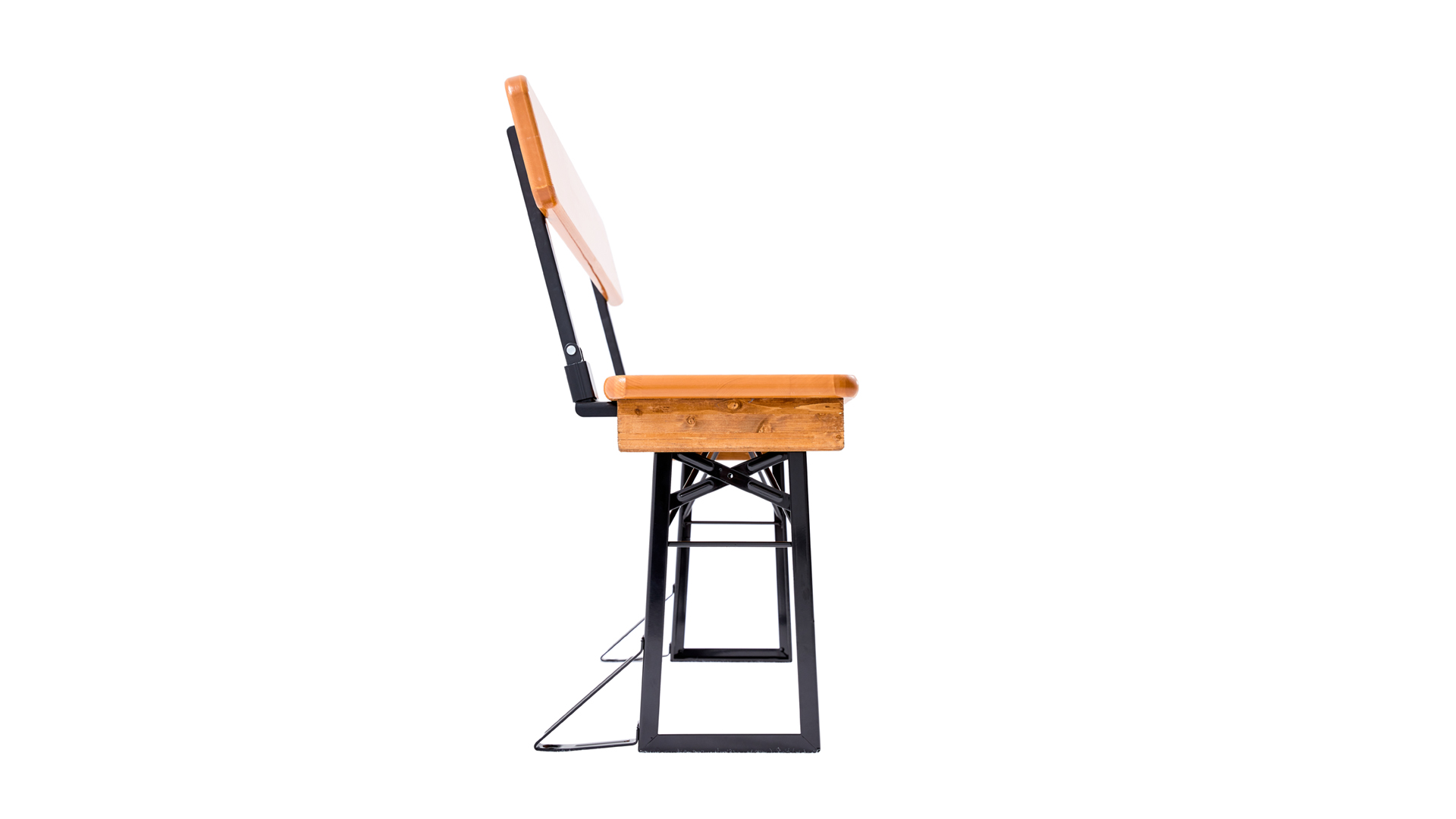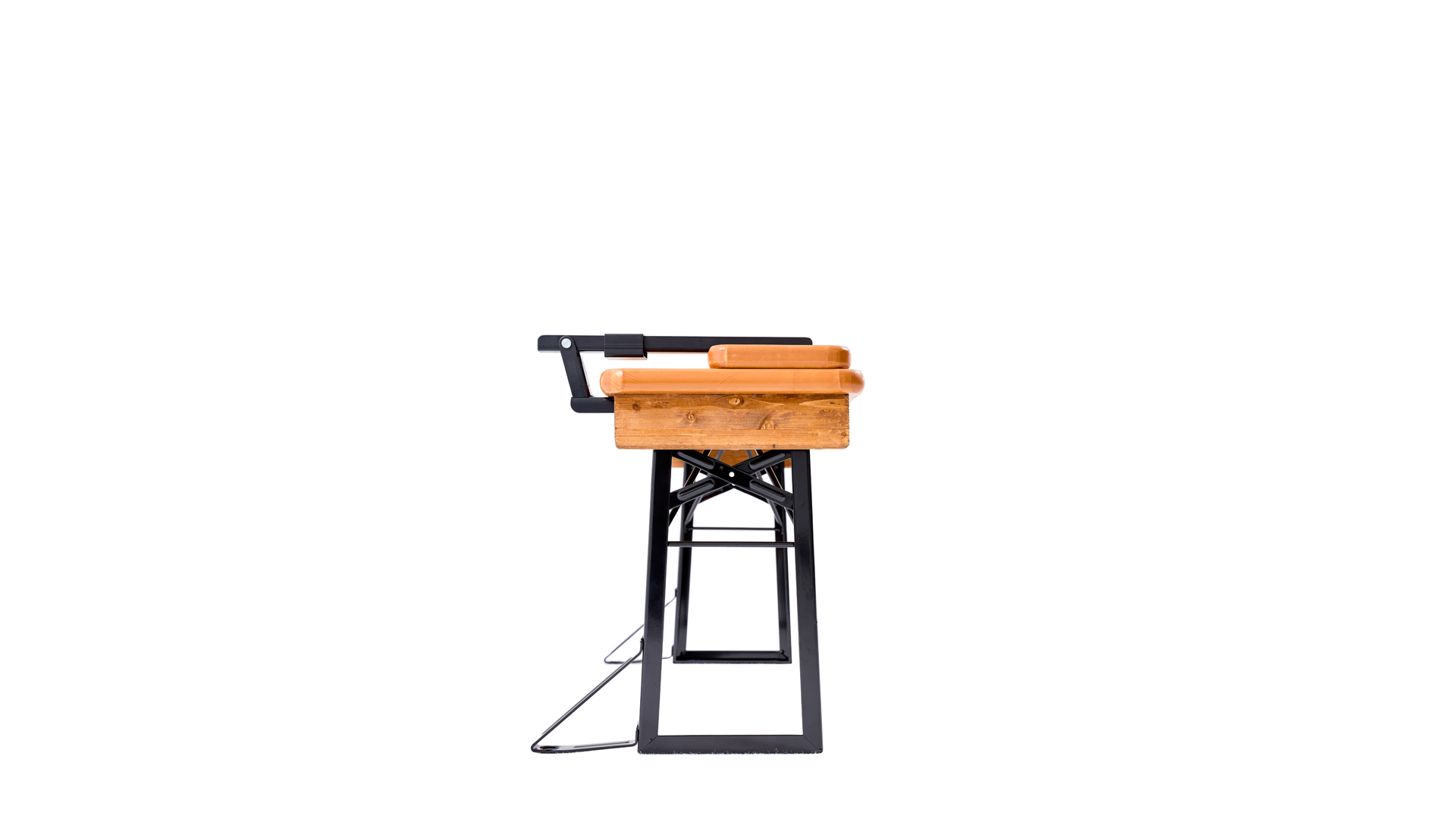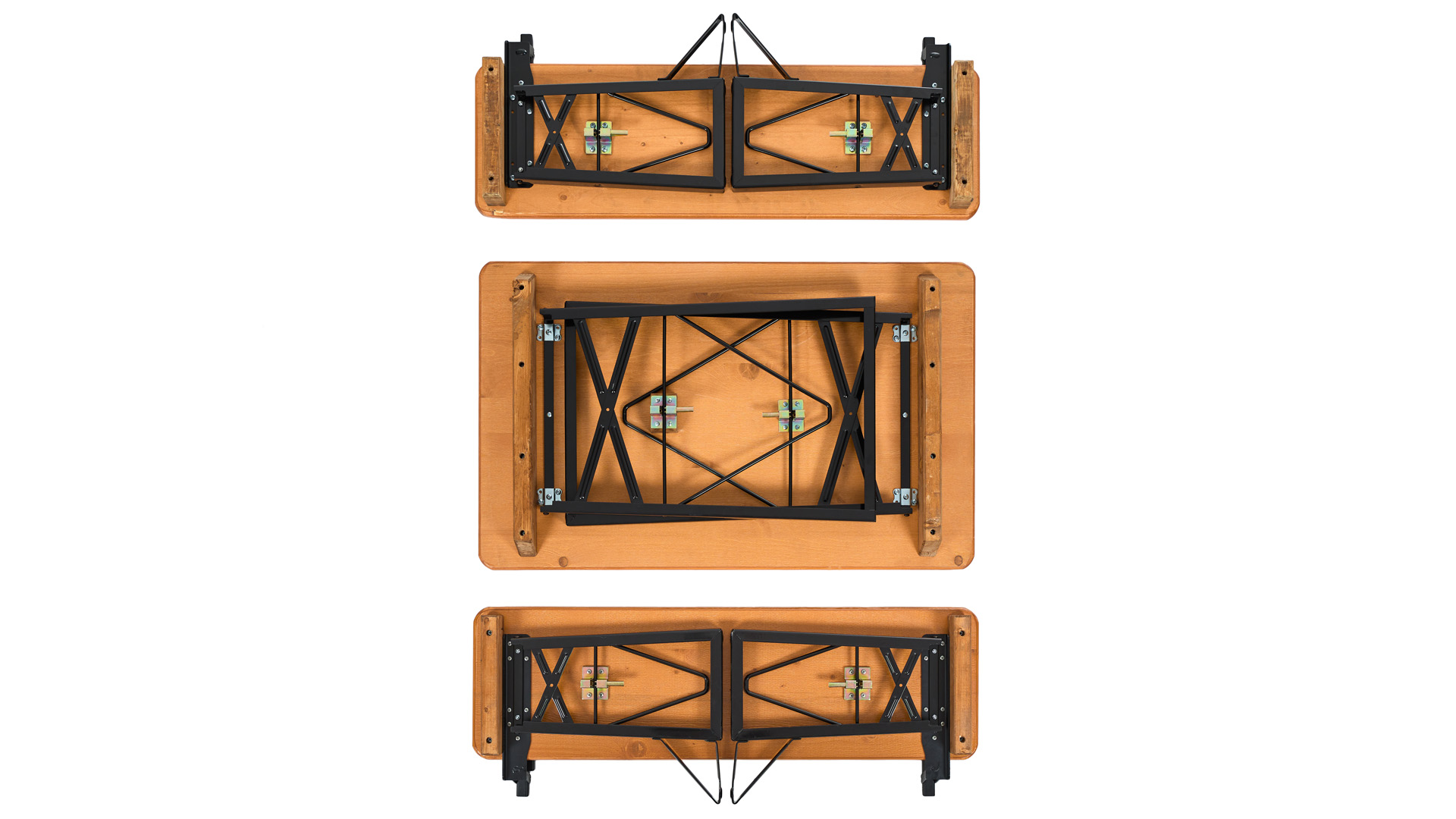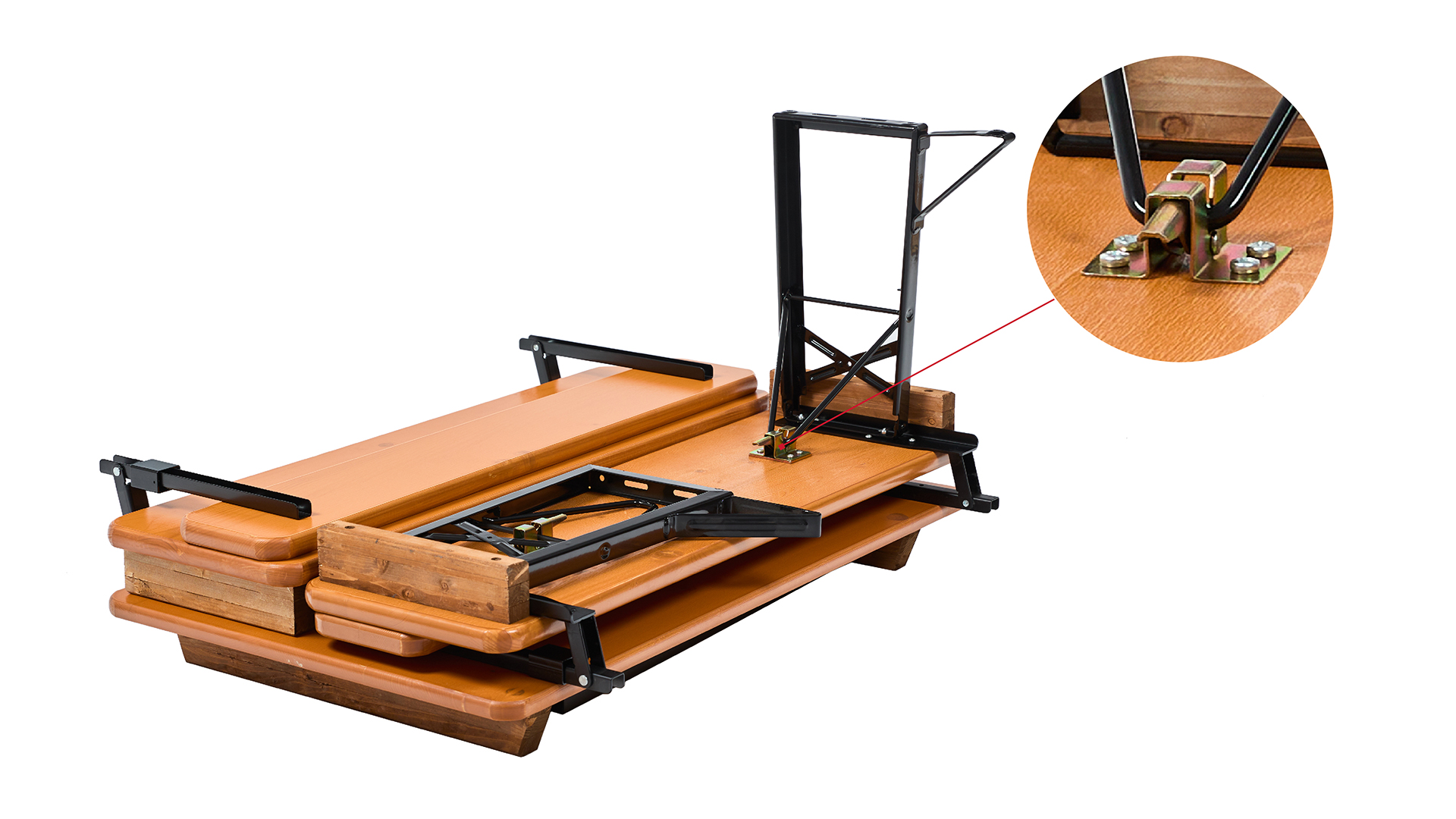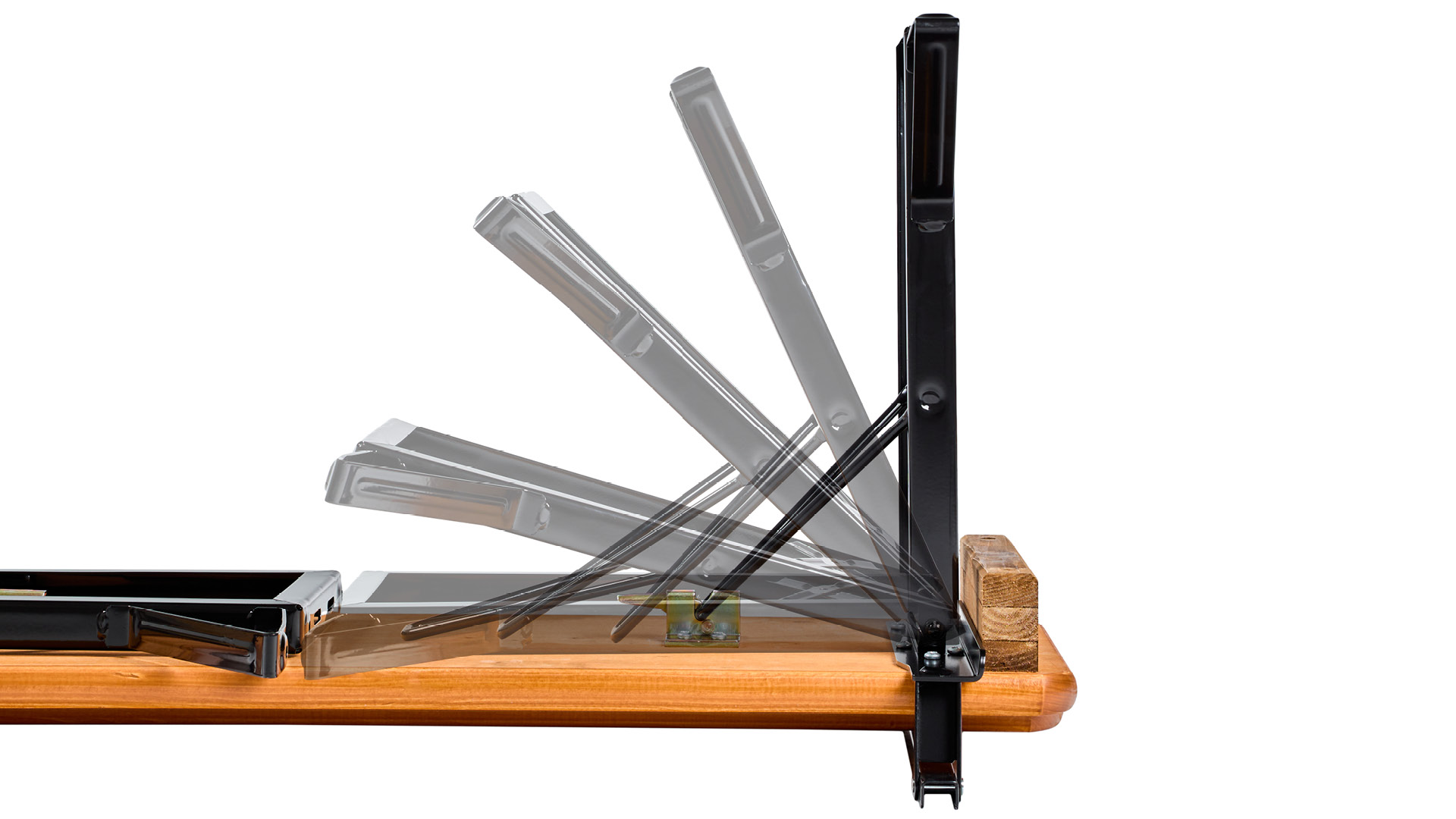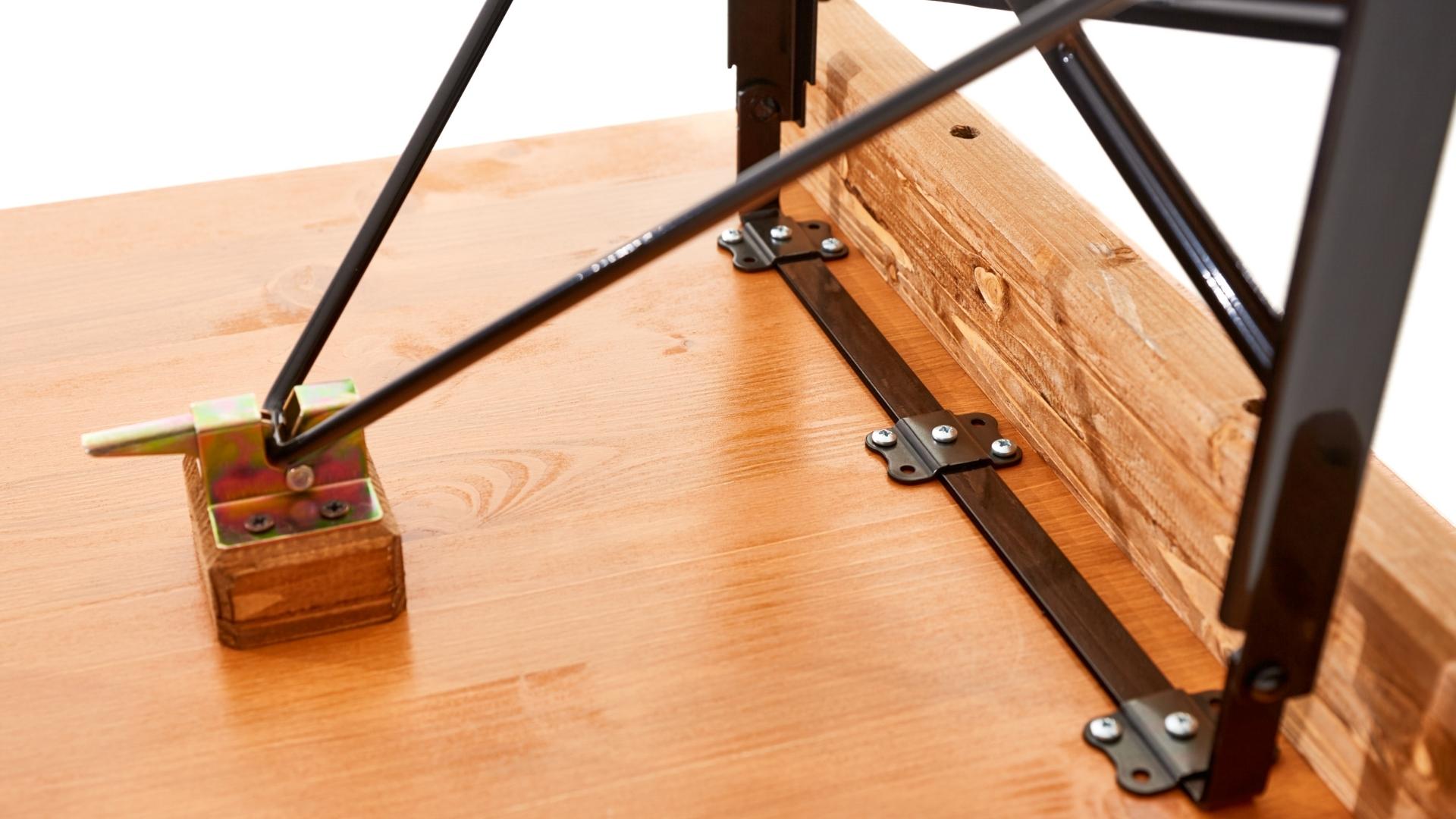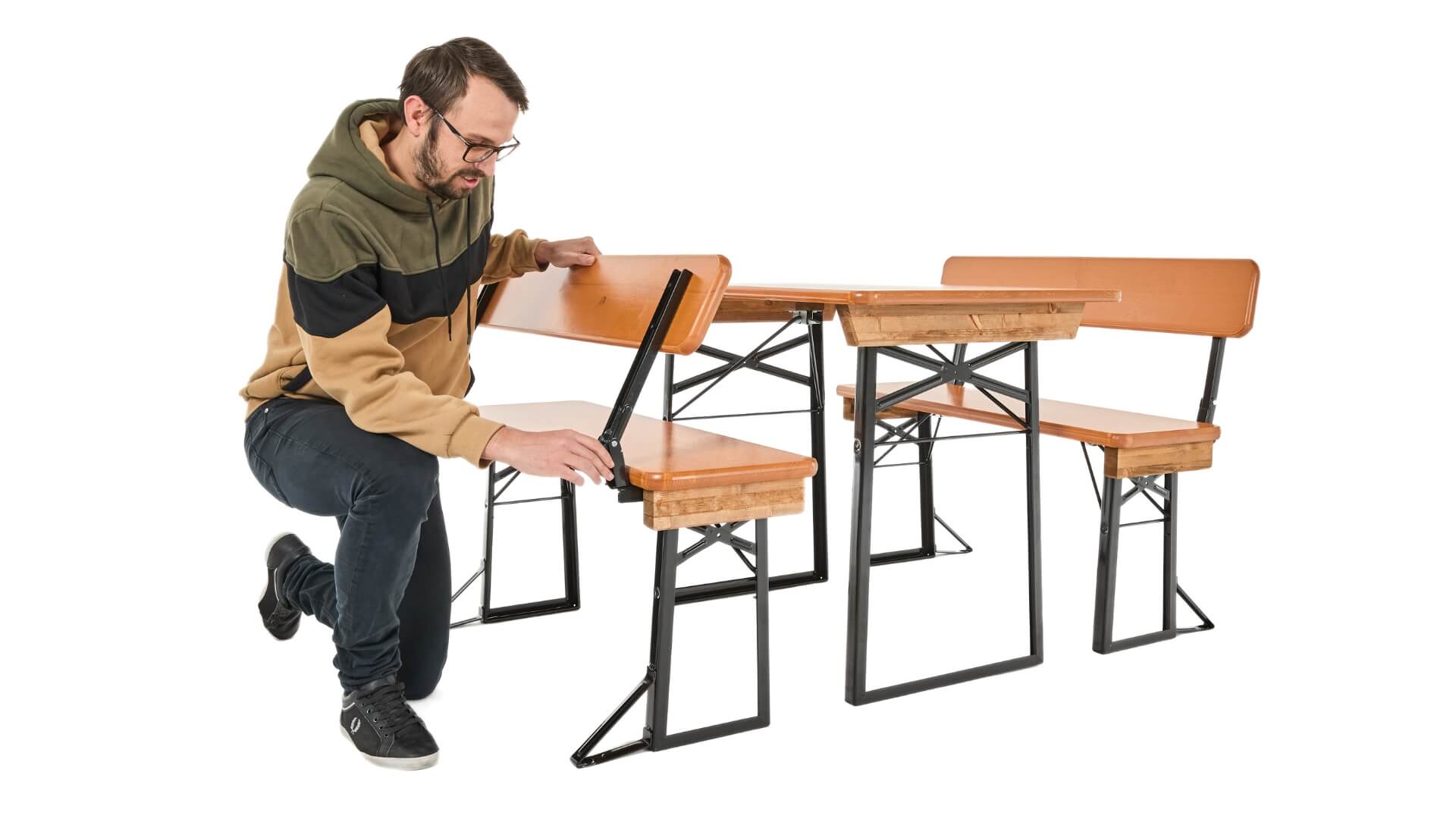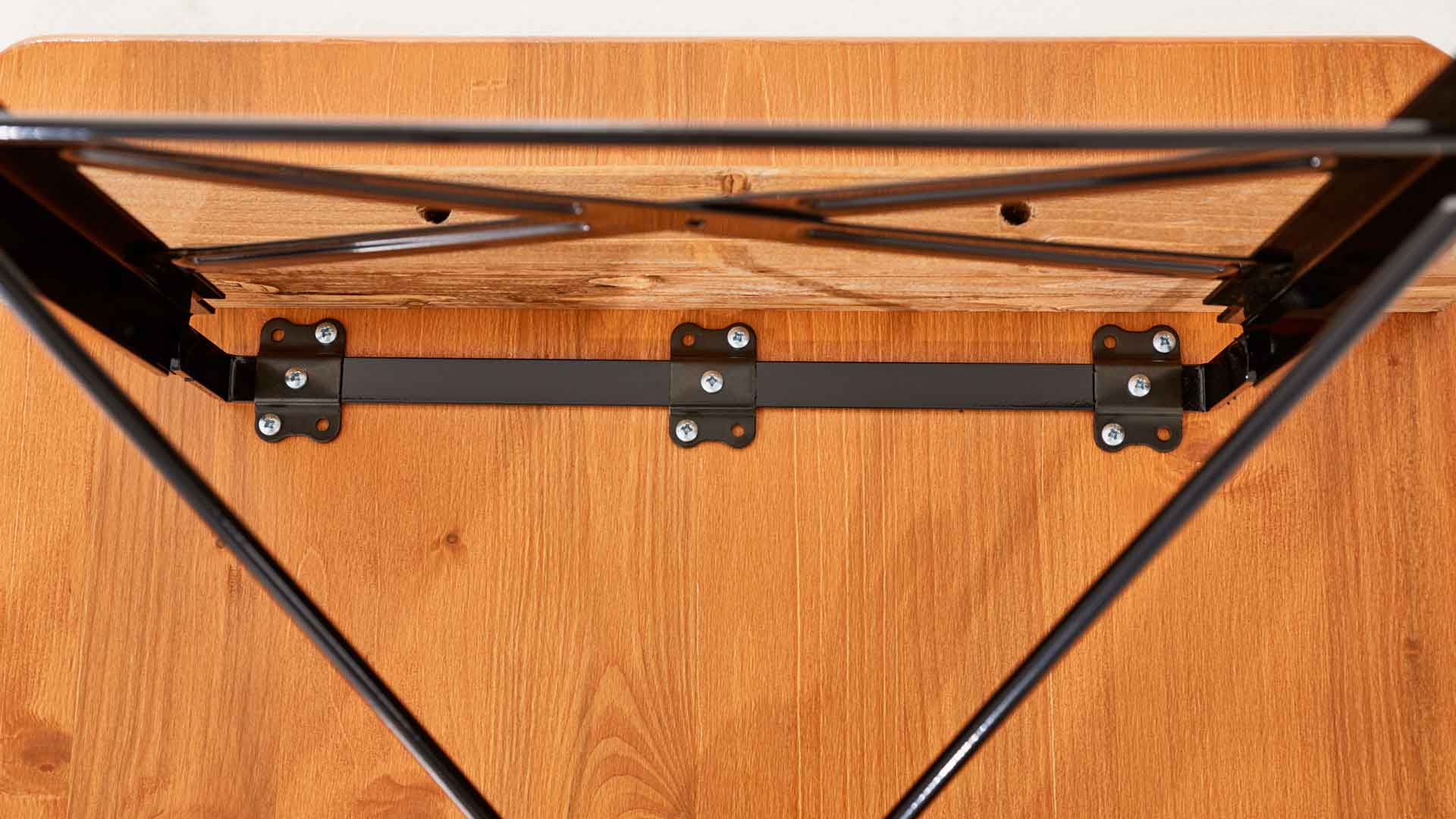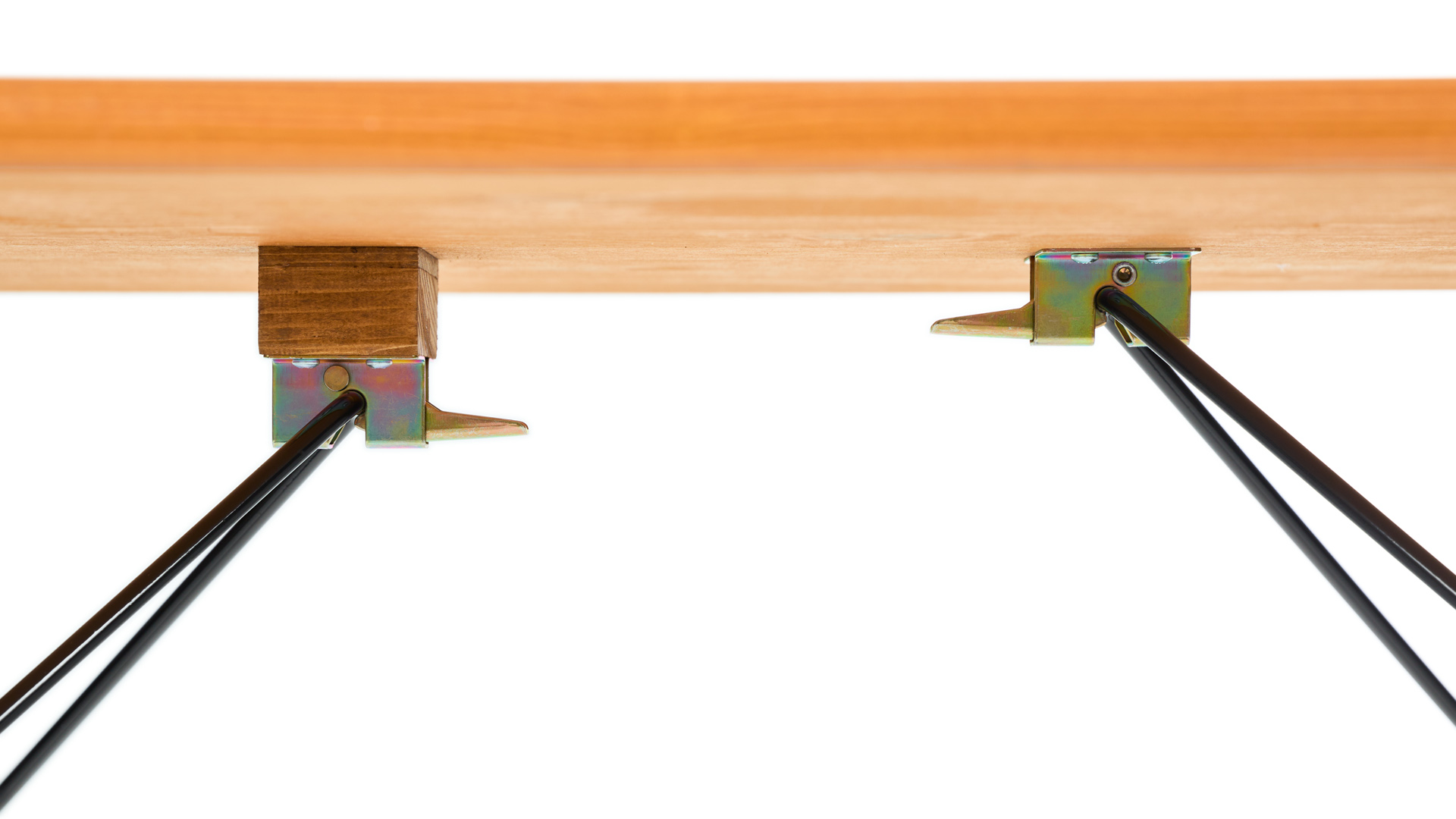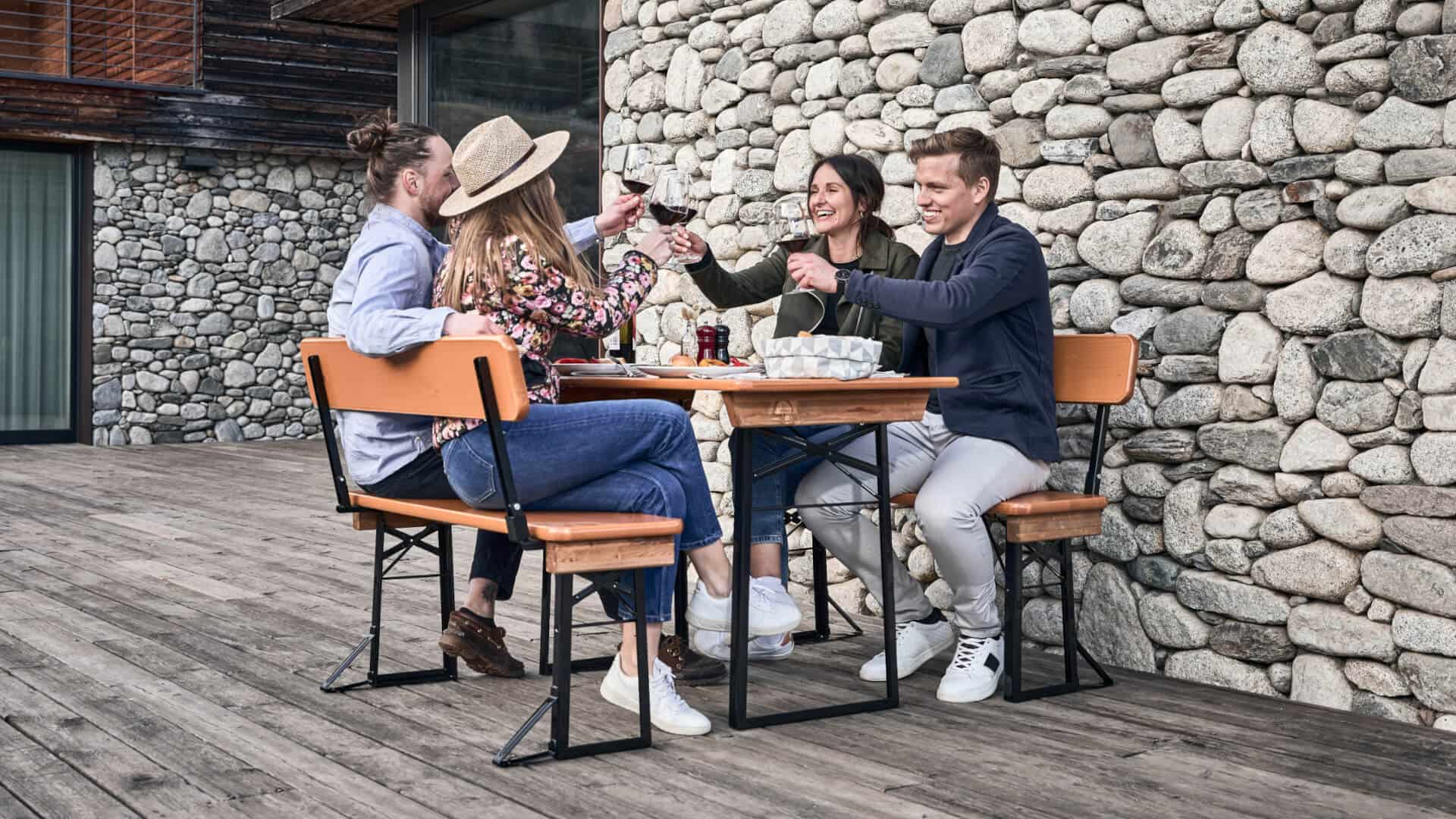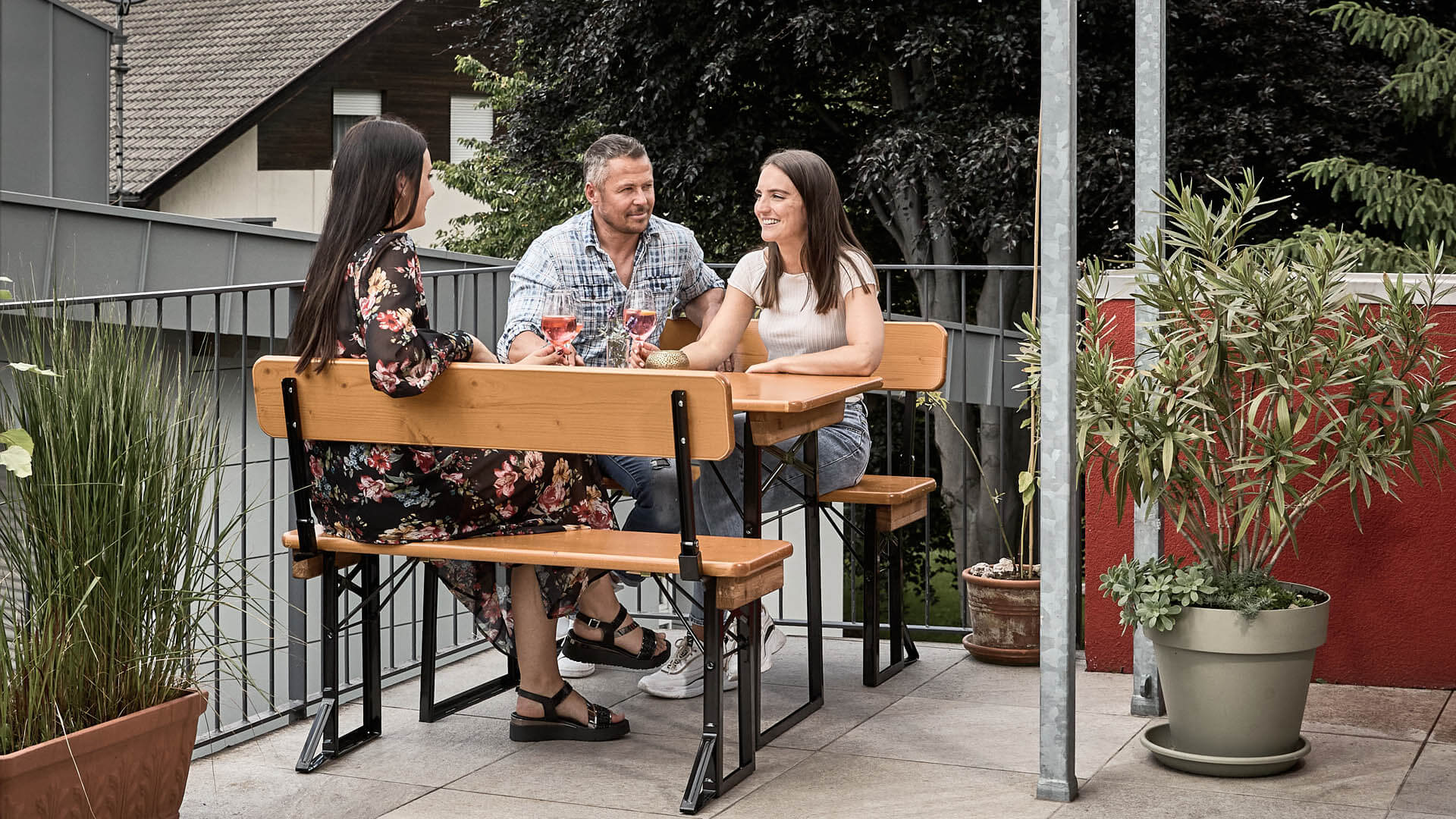 Available, delivery time 7 workdays
Product information ""Shorty" beer garden table set with backrest"
Short as... Comfortable! With its lenght of only 108 cm, the "Shorty" set, our short beer garden table set, provides that special beer garden feeling at home on narrow balconies or small terraces, just as well in the small and narrow alleys in front of traditional pubs. The benches are supplemented with backrests and thus guarantee the highest comfort. Quite traditionally, like the classic beer garden table sets at the Oktoberfest, both table and benches of the "Shorty" set are foldable.
Included in the delivery:
1 beer garden table of 108x67 cm (colour pine) with classic base frame
2 beer garden benches of 108x33 cm each with backrest (colour pine)
Do you need a large number of our short beer garden table set "Shorty" with backrest?
Get a price quote now
Properties from ""Shorty" beer garden table set with backrest"
| | |
| --- | --- |
| Product Category: | folding furniture |
| Shop no.: | 205467 |
| Model: | Classic beer table set |
| Furniture Colour: | pine |
| Table Length: | 108 cm |
| Table Dimensions : | 108x67x77 cm |
| Bench Dimensions: | 108x33x49 cm |
| Set Size: | set of 1 |
| Backrest: | with backrest |
| Backrest: | ✓ both benches with foldable backrest |
| Seating Capacity per Set: | 2-4 people |
| Suitable for Indoor and Outdoor Use: | ✓ yes |
| Weight: | 44,5 kg |
| Board's Wood Type: | Wood type: selected chamber-dried spruce wood - extremely low warpage and with minimal knots | Wood colour: pine | Surface: weather-resistant and flame-retardant Firelock® UV nano varnish according to DIN 4102 B1 |
| Base Frame Material: | Frame colour: black | Fittings: steel powder coated |
| Certification: | ✓ TÜV-tested |
---
Passt perfekt in unsere kleine Terrasse. Die kurzen Bänke mit Lehne sind super.
Perfekt für unseren Balkon
Unser Außenbereich ist durch dieses Set ein Rückzugsort zum Entspannen für uns geworden. Absolut empfehlenswert!
Auf unsere Terrasse passt keine normale Garnitur. Wir wollten dennoch eine unbedingt mit Lehne. Passt perfekt.
Das Set passt sehr gut auf unsere kleine Terrasse und bietet genügend Platz für unsere vierköpfige Familie.
Momentan bestürzt, weil angeblich zu kurz bestellt! Dabei sind wir im Normalfall nur 2 Personen! 4 Personen können regulär sitzen. Wer mehr Platz will, stellt einfach an die 60cm Seite vom Tisch noch einen Stuhl dazu. Oder stellt die Bänke in L-Form auf, den Tisch längs und kann auf beiden Seiten vom Tisch noch einen Stuhl aufstellen. Alles ist möglich. Einfach perfekt! Saubere Verarbeitung, unbeschädigte Lieferung da sehr gut verpackt - Wir sind sehr zufrieden.
Sehr einfacher und müheloser Aufbau
Das gute daran ist, dass schon alles montiert ist…. Mit zwei Handgriffen kann man das Set öffnen und schon ist es aufgebaut.
WOOOOWW habe noch nie so eine schöne Farbe bei einer Bierbank gesehen! Wirklich gut mitgedacht!
Gute Qualität und sehr bequem
Es ist von hoher Qualität und die Rückenlehne garantiert höchsten Komfort. Ideal für 4 Personen.
Die garnitur eignet sich gut für unseren außenbereich, allerdings finde ich, dass sie eindeutig überteuert ist.
Assembly and disassembly of the short beer garden table set with backrest
Ready for use in seconds
Thanks to the innovative folding mechanism, the short beer garden table set with backrest can be assembled and disassembled in no time and with minimal effort. Moreover, the short beer garden table set with backrest is easy to store and transport.
Enjoy great advantages with a foldable seating!
The short beer garden table set with backrest and its construction
Well thought out down to the smallest detail
The short beer garden table set with backrest is the result of 70 years of practical experience. First-class materials and careful workmanship ensure its long service life. The short beer garden table set with backrest is made of selected spruce wood and robust, drawn flat steel serves as its frame material. Many small, technical details contribute to the function and stability of the short beer garden table set with backrest and ensure outstanding resistance to mechanical stress, weather impacts and wear. Convince yourself!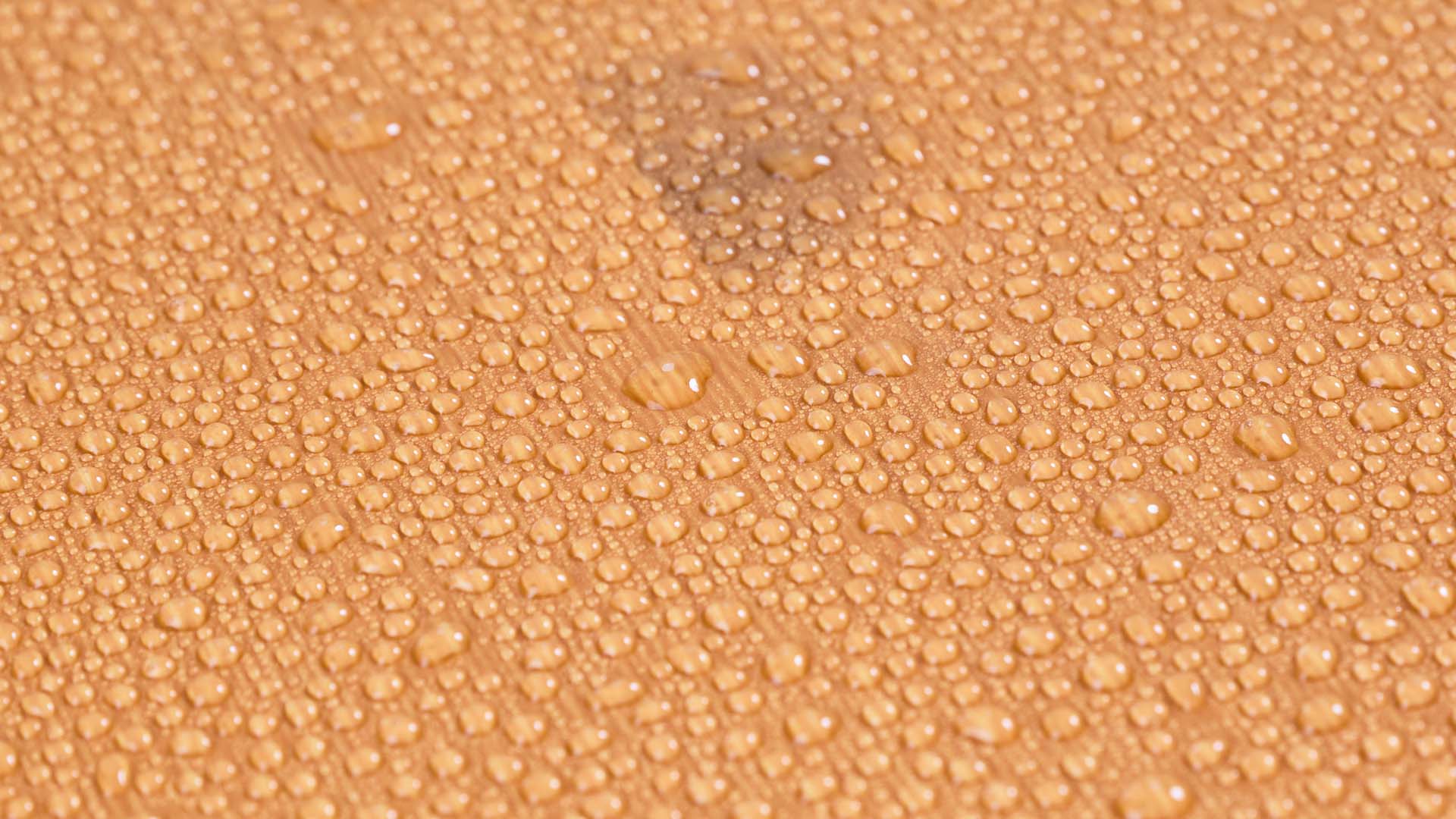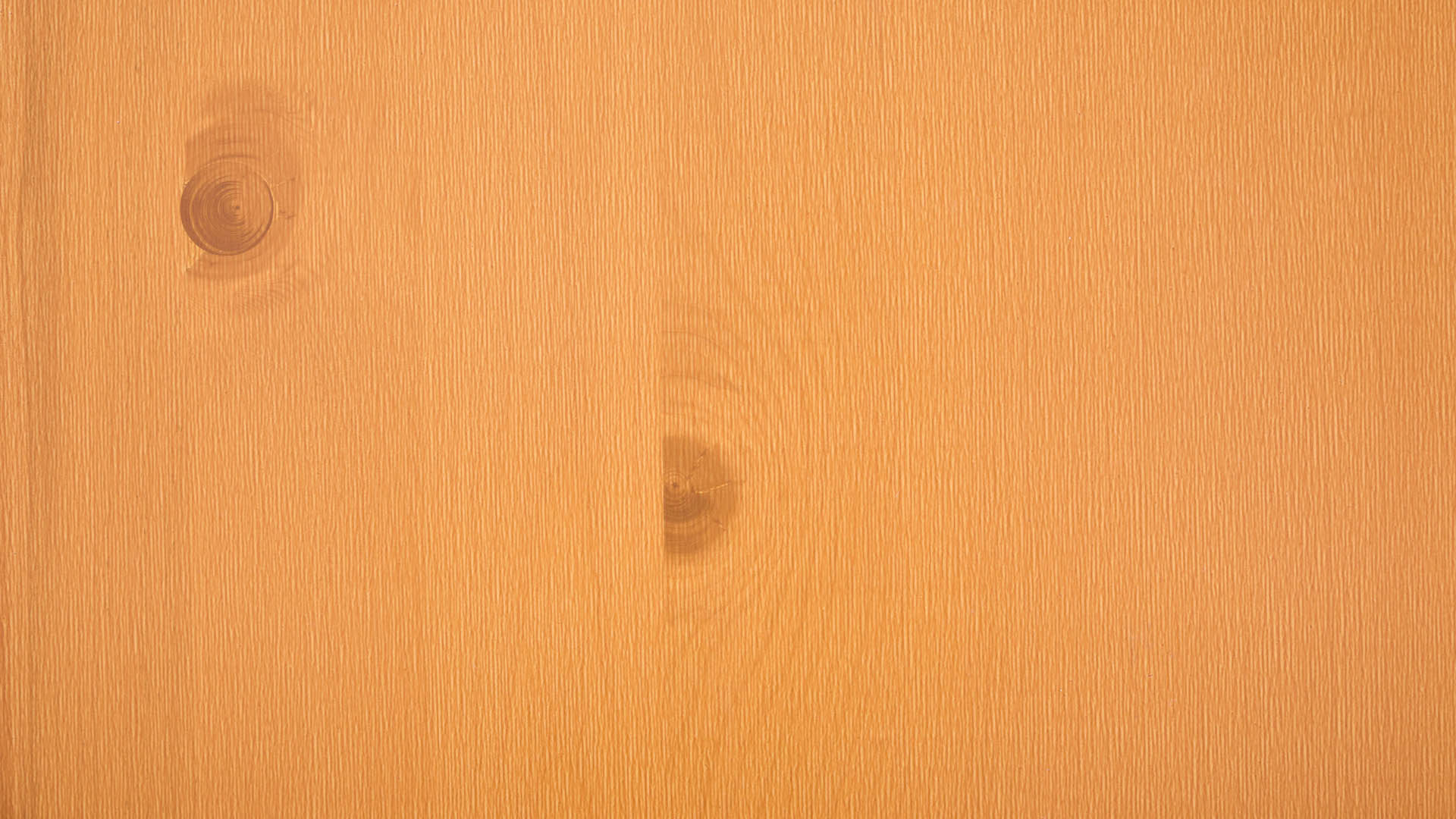 Weatherproof glaze
Our specially developed and certified Firelock® UV glaze has been classified as flame-retardant according to DIN 4102 B1. It is also weather-resistant, solvent-free, environmentally friendly and food-safe.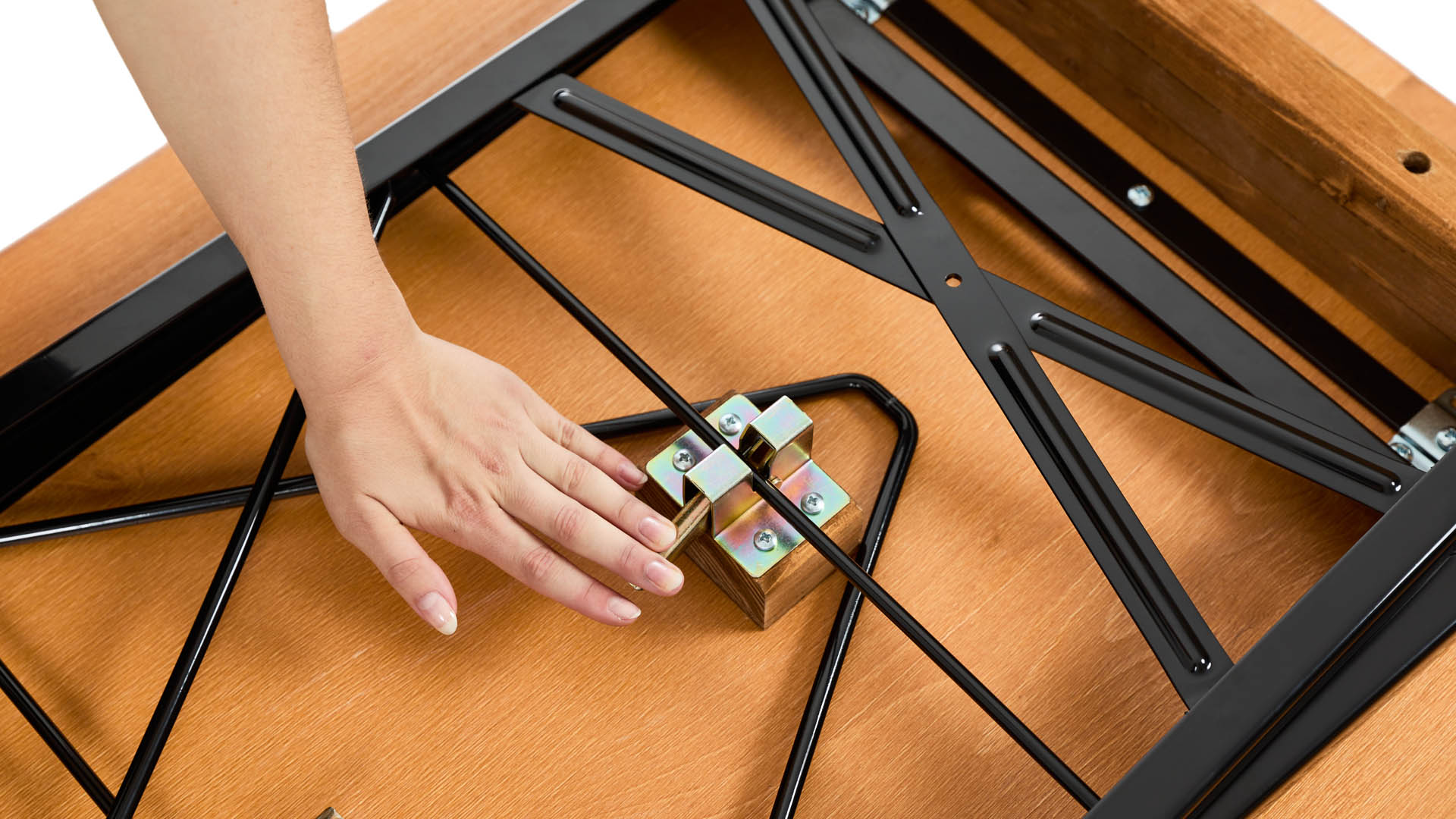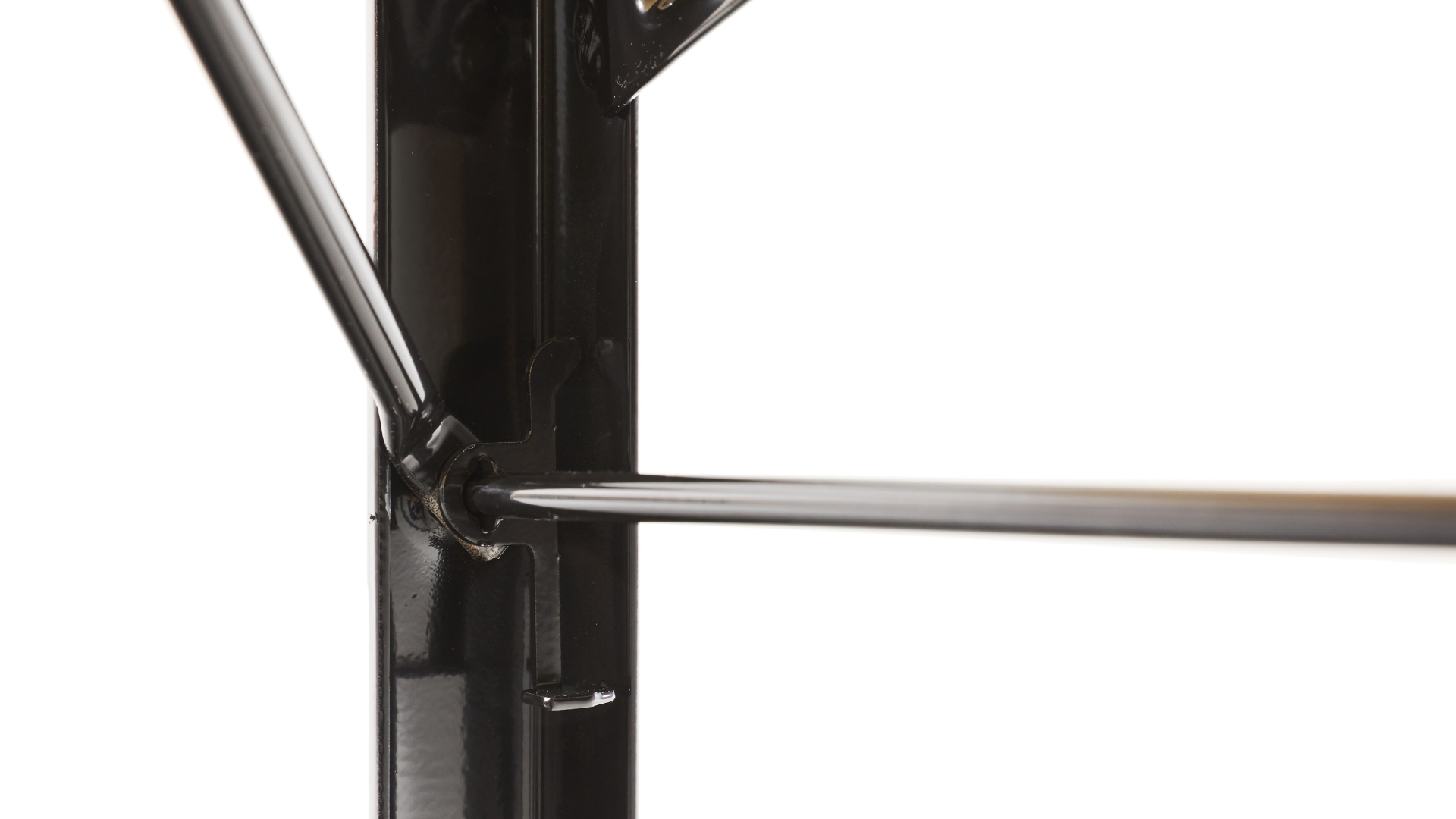 Folding furniture lock from the inventor
The solid lock was invented by Rudolf Kurz, the founder of RUKU, and proven a million times over 70 years: The fully galvanised lock (double bolted) and retaining spring are precisely checked and guarantee millimetre-precise engagement, no play, no wobbling!
Patented C-profile
The patented C-profile of the base frame guarantees an increase in stability of up to 20 % compared to conventional base frames. Additional stiffening ribs in the cross-bracing contribute to higher stability as well.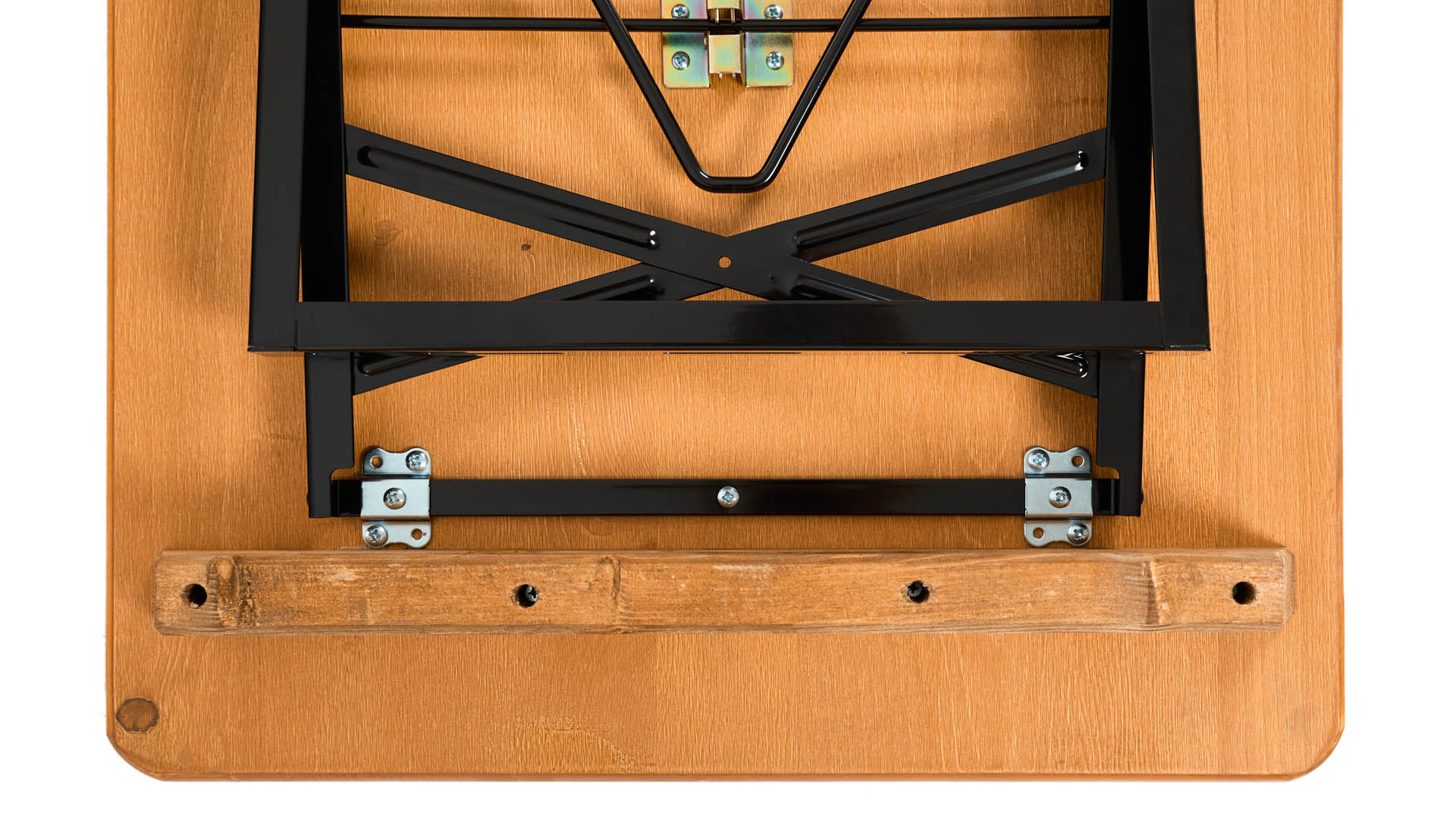 Patented trapezoidal shape
The stable trapezoidal shape of the base frame contributes to stability through its wider support. The additional weld seam at the corners of the base frame closes the edges of the individual bent parts and joins them to form a robust unit.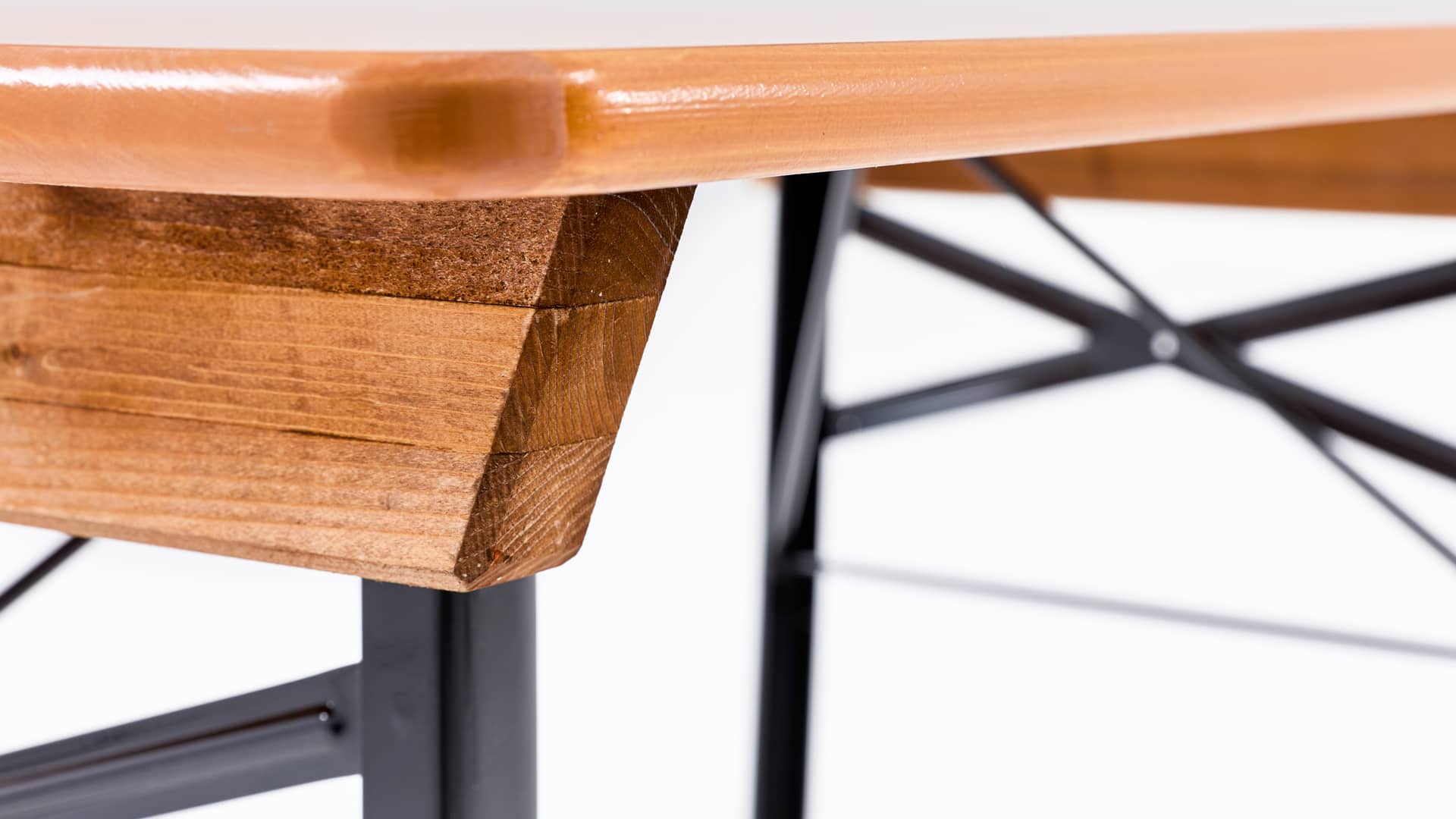 Practical stacking ledges
The stacking ledges protect the set during stacking, transport and dismantling. The bevelled wooden ledges are screwed and glued from the bottom side, so that there is no damage to the varnished surface.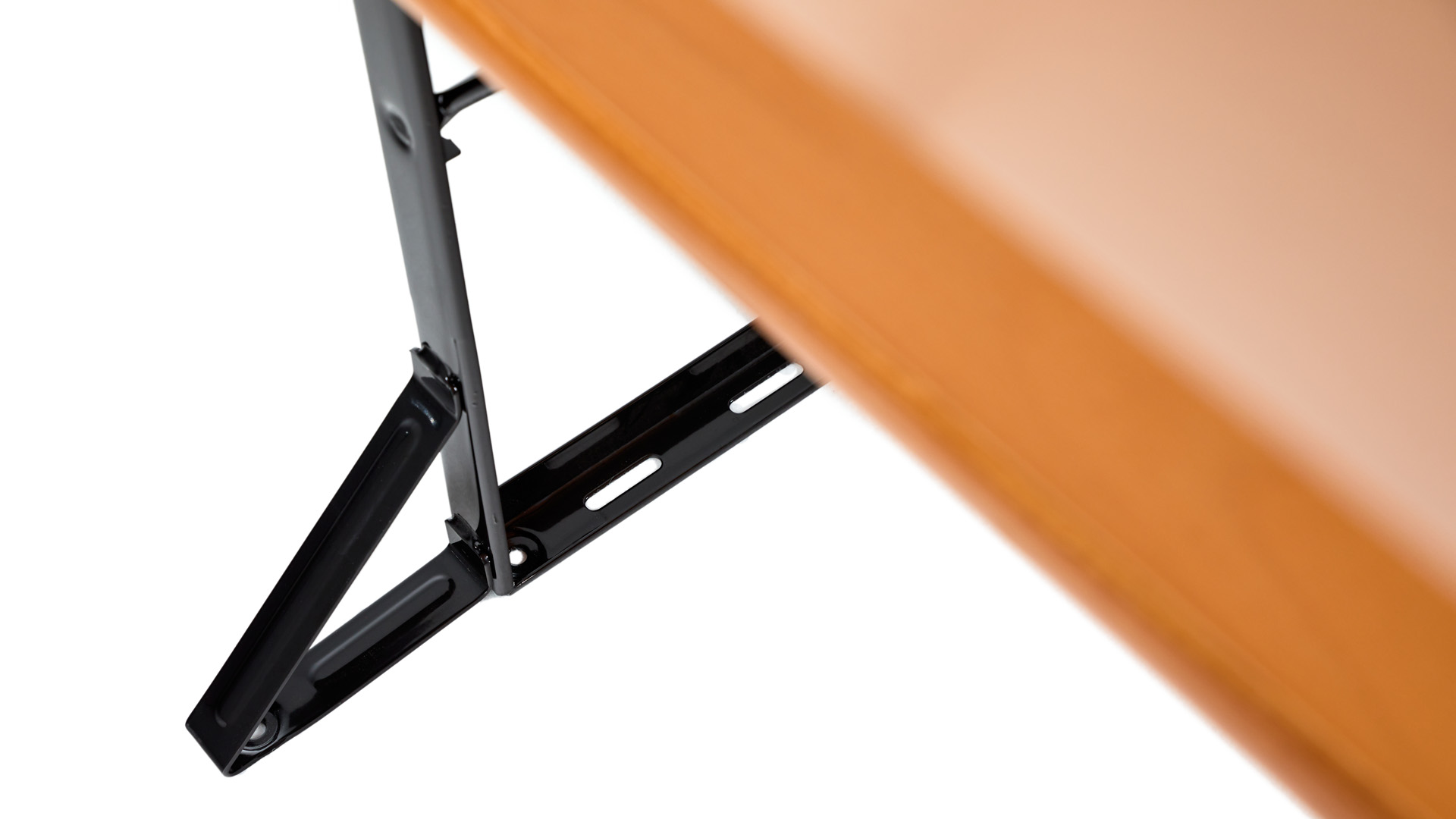 Special anti-tipper
As standard, the beer garden bench with backrest is fitted with an additional extension, the so-called anti-tipper, at the rear of the base frame. This increases the stability of the beer bench and thus prevents it from tipping over.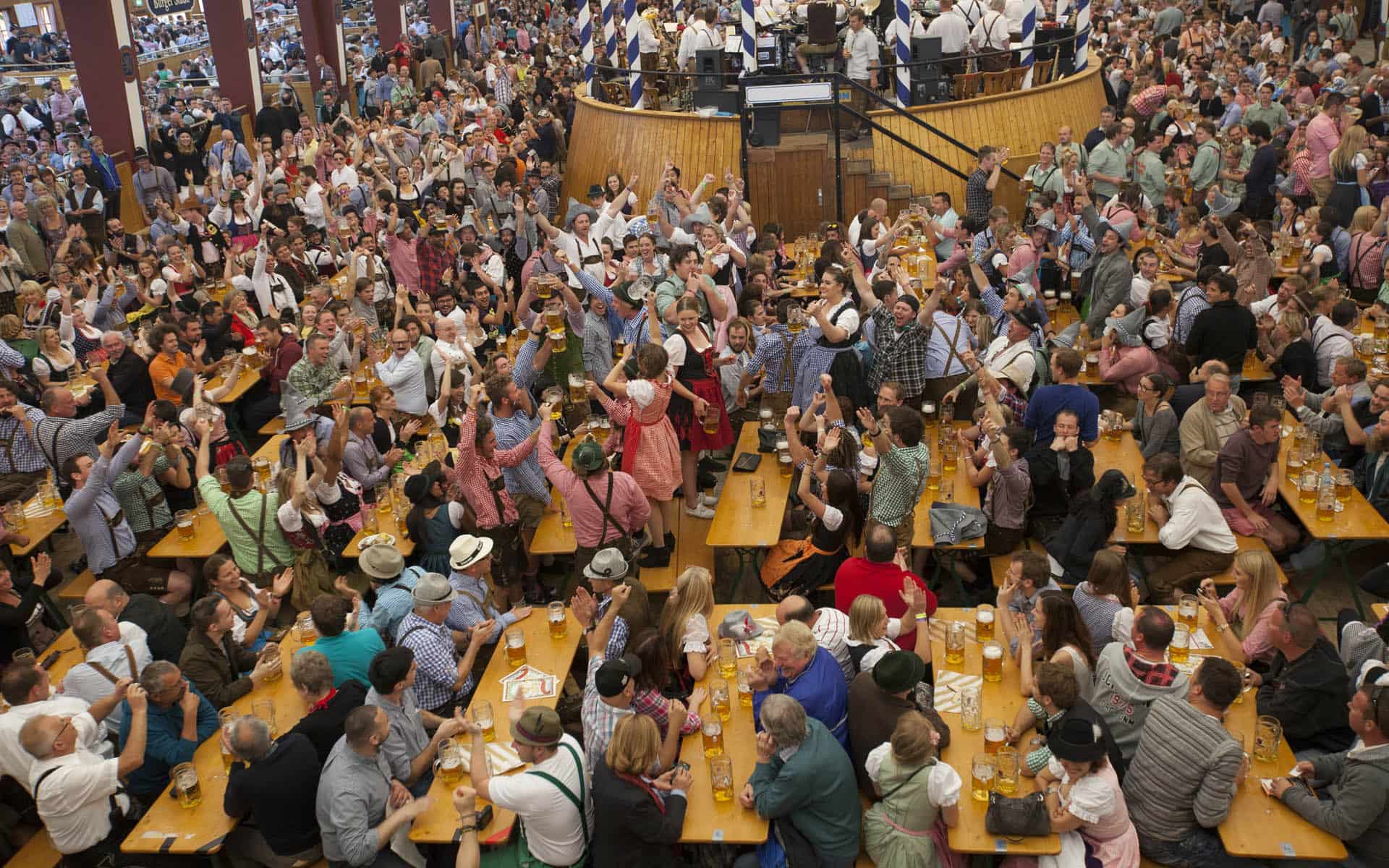 Directly from the manufacturer
RUKU1952® is an Oktoberfest supplier
Since the 1950s, we have been producing high-quality folding furniture in the best brewery quality, which has already proven itself countless times at the Oktoberfest. Extensive know-how and a constantly growing spirit of innovation bring our products to the highest level.

Trust in genuine manufacturer quality!
The perfect canopy tent to the set